GaN-on-SiC HEMT packs 600W for pulsed power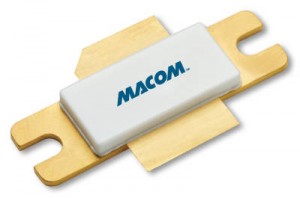 Macom Technology Solutions has announced a ceramic GaN-on-SiC power HEMT for avionics.
MAGX-001090-600L00 is a gold-metallised matched GaN-on-SiC RF power transistor optimised for pulsed avionics at 1,030-1,090MHz, such as secondary surveillance radar in air traffic control systems.
It provides 600W of output with 21.4dB typical gain and 63% efficiency.
"The device has a thermal resistance of 0.05°C/W and load mis-match tolerance of 5:1," said the firm. "In addition, the device has a pulse droop of 0.2dB and can be used effectively under more demanding Mode-S ELM operating conditions."
"The device provides the highest load mismatch tolerance in its class," claimed product manager Paul Beasly.
Operating voltage is 50V max, and the firm is predicting MTTF of over 600 years at a maximum junction temperature of 200°C.
Evaluation boards are available from stock, and the device will be on show ot the Macom stand at European Microwave Week in Nuremberg on 8-10 October.