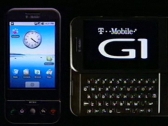 In a New York launch, the partners involved outlined features of the phone that will appear shortly. In the US, the commercial launch date is Oct 22. Next up is the UK, with availability promised for "early November", with the rest of Europe following in Q1 of 2009.
Spelling out GNU and Linux stories
Features of the phone include:
Size: 117.7 mm x 55.7 mm x 17.1 mm (LxWxT)
Weight: 158 grams
3.2in Touch screen
Drag and drop UI
Slide out (full QWERTY) keyboard
HSDPA/WCDMA: Europe: 2100 MHz, US:1700/2100 MHz
Quad-band GSM/GPRS/EDGE: 850/900/1800/1900 MHz
Wi-Fi: IEEE 802.11b/g
3.2 megapixel camera
Bluetooth 2.0 with Enhanced Data Rate (headset, hands-free profile)
Processor: Qualcomm MSM7201A, 528 MHz
Memory: ROM:  256 MB, RAM:  192 MB
Talk time: Up to 350 minutes for WCDMA, 406 minutes for GSM
Music support (one-click ordering through Amazon)
Compass mode (location awareness)
Support for Push email
(The full specification of the phone – and details of its features – can be found on the G1 pages of the HTC site.)
Android Market will be the place to obtain third-party applications that take advantage of the open platform.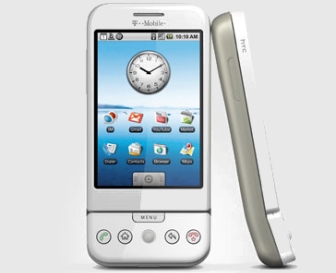 In terms of pricing, only details have been revealed for the US where it will cost $179 (for the limited numbers available). Two data pricing plans will be available – $25 for unlimited Web usage with limited messaging, and $35 for both unlimited Web browsing and messaging.
"Because the platform is open we believe the Android future is future proof," said Andy Rubin, senior director of mobile platforms for Google.
"With the T-Mobile G1 we are continuing our strong tradition of being pioneers in the world of the open Internet," said Christopher Schläffer, Group Product and Innovation Officer of Deutsche Telekom.
More details will follow. Google founders Larry Page and Sergey Brin are currently on stage in New York hailing the G1. See http://announcement.t-mobileg1.com/ for the video of the launch event.