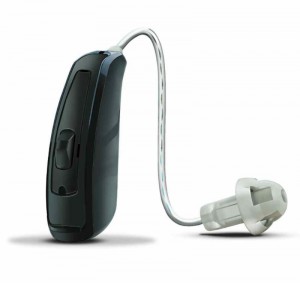 Danish hearing aid developer, GN ReSound has incorporated a Bluetooth Smart comms interface in its latest hearing aid which can receive stereo audio direct from an iPhone or iPad.
An app on the iPhone can be used to set preferred volume levels as well as treble and bass tone settings for each user, given that no two human ears (and brains) ever quite respond to audio stimulus in exactly the same way.
"An individual's hearing doesn't typically fail completely or suddenly," comments GN ReSound v-p of brand management, Ditlev Friis.

"It will tend to deteriorate over time in one or both ears in a very subjective way because of the unique manner in which each person's hearing and mind work. The problem is that negative perceptions surrounding traditional hearing aid products have unfortunately resulted in most people putting off buying a hearing aid for up to seven years after they would benefit."
The devices also allow users to 'geo-tag' select locations to assign and adjust the acoustics of frequently visited places like the user's home, workplace, or favorite restaurants.
The app will also find the hearing aid if lost.
The ReSound LiNX hearing aid uses the Nordic nRF51822 chip to provide the Bluetooth Smart wireless interface.
The hearing aid runs off a standard hearing aid battery size called a '312' (7.9mm diameter, 3.6mm tall, typical battery capacity 160mAh).