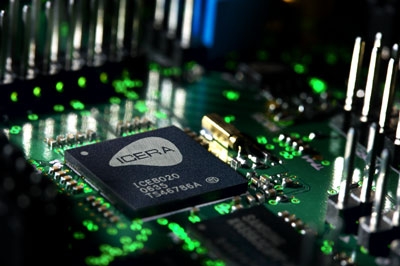 "Carriers are definitely looking for diversity of supply in the data card space, where Qualcomm have an almost 100 per cent market share", Stan Boland, CEO of Icera, told Electronics Weekly, "we have a technically superior product to the Qualcomm product, our product is smaller, cheaper and with better performance than Qualcomm. We expect to have 33 per cent market share in the data card space by the end of next year."
Icera has been working with Sirific for about a year in developing a joint product. Sirific does the RF front end and Icera the baseband chip.
Asked why, if they already had a joint product, they also needed joint ownership of the two companies, Boland replied: "For three reasons: first, the customers like to get their chip-set from one company; second, we can price bundle when selling the combined chip-set; third, we can develop a road map with a higher level of integration."
Asked what that integration would involve, Boland replied: "Currently our baseband chip co-packages two die, a digital die, and an analogue die which talks to the radio front end. We could remove the analogue die, and talk directly from the digital die to the radio die."
The merger of Icera and Sirific has been done by giving Sirific's shareholders a chunk of Icera stock.
Boland remains as CEO of the joint company and Sirific co-founder, Tajinder Manku, joins t he board of Icera as hand of the RF and analogue division.
Icera management will run the combined company, and Sirific's design teams in Canada and Texas are moving over to Icera.
The value of the Icera stock given to Sirific's shareholders is not revealed. Sirific is a pre-revenue company and was expecting to get its first revenue from the joint product it has been developing with Icera.
Sirific has raised $63m in venture funding, and Icera has raised $142m.
The opportunity to get into the data card space comes as the wireless carriers are looking to diversify their supplier base.
Qualcomm has been involved in many lawsuits with the telecoms industry, principally Broadcom and Nokia, with Qualcomm losing most of the cases and, and at one point, US courts stopping cellphones containing Qualcomm chips being shipped into the US.
This is one reason why wireless network carriers are looking to diversify supplies, so they can be guaranteed secure, legally unchallengeable, sources of supply.
"We are a Qualcomm licensee", added Boland, "so we can ship with a full Qualcomm licence with no fear of any litigation from Qualcomm."