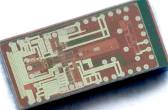 "The chip achieves this performance over the four channels specified by IEEE802.11ad," said IMEC. "This is a step towards adoption of 60GHz technology in battery-operated consumer products such as smart phones and tablets."
The globally-available unlicensed band around 60GHz offers a chance to communicate outside the congested 2.4GHz slot.
Implemented in 0.7mm2 of 40nm digital CMOS, the transceiver front-end achieves an EVM (error vector management) better than -17dB for QAM16 modulation in the four channels.
"The area is kept low thanks to the use of lumped components even at 60GHz, and very compact millimetre-wave CMOS layout techniques," said the lab. "Continuous research on power efficient CMOS PAs [power amplifiers] enables further important reductions in the power consumption of the transmitter section. The front-end is now further being integrated into a beam-forming transceiver prototype."
PA and mixer consume 90mW with 10.2dBm OP1dB.
LNA (low noise amplifier) and receive mixer use 35mW with a noise frequency (NF) of 5.5dB and 30dB gain.
Human body model electrostatic robustness is above 4kV.
"We work towards a proof-of-concept for 60GHz phased array radios covering the IC and antenna design, compliant with the applicable industrial standards," said IMEC programme director Liesbet Van der Perre. "We invite other companies to join our 60GHz R&D programme as research partner or they can have access to the technology for further development through licensing."