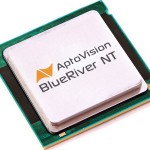 "Replacing custom AV Matrix switches with standard Ethernet switches cuts the cost of AV matrix switching equipment by 60% while also eliminating the associated R&D cost, procurement complexities and inventory risk," said the Montreal-based company.
Integrated into source-side AV transmitters and display-side AV receivers, the BlueRiver NT chipset transmits uncompressed Ultra-HD (4K) HDMI-video, 32 channels of audio, USB 2.0(i) and control signals over fibre or copper cabling.
It usesa a packet-based architecture which allows the signals to be switched through standard OTS 10G Ethernet switches.
Proprietary technology to handle arbitration, source clock recovery, bandwidth management and network configuration ensures real-time, pixel for pixel, zero-frame latency transmission.
"The high time-to-market, cost and risk associated with developing, certifying, manufacturing, testing and stocking multiple configurations of custom AV Matrix switches prevents many AV equipment manufacturers from competing effectively in the market for AV signal distribution equipment," said Kamran Ahmed, CEO and co-founder of AptoVision.
"Our BlueRiver NT uniquely enables such AV equipment manufacturers to deliver a complete AV signal distribution platform without the R&D effort or procurement and inventory risk associated with custom AV Matrix switches."
AptoVision's proprietary AV signal distribution and processing engine implemented on off-the-shelf FPGA technology for cost effective and scalable transmission and switching of AV signals. The design allows synchronous, zero-frame latency transmission of video over low-cost, off-the-shelf networking equipment.