LTE-A carrier aggregation creates the 225Mbit/s smartphone download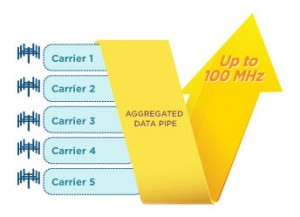 Smartphones in South Korea could be able to download data at 225Mbit/s next year, if the plans of operator SK Telecom to implement a multi-channel technology known as carrier aggregation (LTE-Advanced) are successful.
Using 4G mobile technology known as LTE-Advanced with carrier aggregation SK Telecom plans to combine its bandwidths in the 1.8GHz (20MHz bandwidth) and 800MHz (10MHz) spectrums to offer up to 225Mbit/s data download speed by next year.
SK Telecom is already offering an LTE-Advanced service by aggregating 800MHz band (10 downlink + 10 uplink) and 1.8GHz band (10 downlink + 10 uplink) in central areas of 84 cities in South Korea.
The company said it plans to build 32,000 LTE-Advanced basestations by the end of this year to cover more areas of the 84 cities as well as 300 universities across the country.
For existing LTE services the company has gained access to the 35MHz bandwidth (20 downlink + 15 uplink) in the 1.8GHz band.  With wider LTE bandwidth, the company will be able to offer 20MHz downlink LTE service that supports up to 150Mbit/s speed.
All LTE-Advanced devices will operate on the wider LTE bandwidth, while users of 20 existing LTE devices including Vega Racer 2, Galaxy S3 and iPhone 5 will get 100Mbit/s over the LTE network.
"Together with SK Telecom's LTE-Advanced network that already covers central areas of 84 cities nationwide, our 20 MHz downlink LTE service will allow more customers to experience and benefit from the ultra fast mobile data environment," said Park In-sik, President and Head of Network Operations Business of SK Telecom.
Image: LTE advanced (Qualcomm)