LTE-Advanced test scripts without programming skills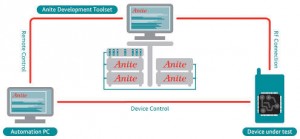 Anite has eased the development of test scripts for LTE-Advanced (LTE-A) device testing.
Called 'Scenario Mode', it is an addition to the firm's Development Toolset and offers a graphical interface intended to enable engineers without specific programming skills to develop and edit test scripts.
"Users of Anite's LTE-A Scenario Mode are able to create most types of tests, even the most complex ones, through a simple drag and drop graphical interface," claimed the firm. "It offers a procedure-based rather than a message-based approach to script creation, which can make test creation simpler and faster. The user creates a complete test by assembling procedure blocks without necessarily working through each message in detail."
Development Toolset provides ways to validate lower layer test scenarios and includes tools that support the wireless device development lifecycle "from pre-silicon protocol module development through to systems integration and verification", said Anite.