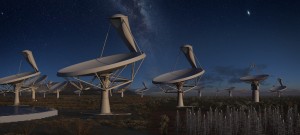 An optical fibre network will form the backbone of the SKA telescope's antenna array.
"We are very pleased and excited to be involved with such a prestigious international project as the SKA; our proximity to Manchester and Jodrell Bank Observatory provides us with the opportunity to interact very closely with the project team during this phase of the design," said Chris Shenton, CEO and founder of AASL.
"The government has demonstrated its commitment to the SKA and we feel privileged to be contributing to such a significant scientific advancement," said Shenton.
According to the head of the University of Manchester SKA team, Keith Grainge, this is a critical phase of the project.
"AASL will be helping us to generate conceptual solutions to the challenging task of transporting the vast quantities of data that will be generated by the SKA telescope," said Grainge.
AASL will provide concepts and support to the University's Signal and Data Transport group (SADT) during the concept generation phase of the SADT subsystem design. The tasks involve mapping the telescope system requirements to potential technical solutions, and subsequently generating high-level concept architectures for the telescope data networks and interfaces.