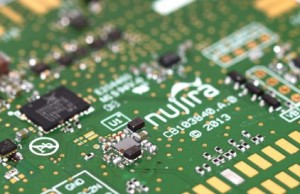 ET is a technology for improving the power efficiency of multiband radio transmission in mobile phones.
Take the Electronics Weekly UK Salary Survey 2014 »
It was suggested that 4G LTE handsets, which can have as many as five radios and operate in 40 frequency bands, would need ET technology to be viable.
But the first 4G handsets on the market do not have ET technology and Jeremy Hendy, vice-president of sale and marketing at ET chip developer Nujira, does not expect handsets with ET to appear before 2015, in the second wave of phones.
"Envelope tracking is later than we hoped and is probably 6-9 months later than we expected," Hendy told Electronics Weekly.
Cambridge-based Nujira has been leading the development of the ET technology, and it expects to ship its first ET chipsets by the end of the year.
But last year Qualcomm introduced its first mobile chipset for ET and is now seen as Nujira's main rival in the market.
"We were surprised by how much Qualcomm dominated in 4G chipsets," said Hendy.
According to Hendy, the bottleneck for ET is not the silicon, it is the software. This is largely developed by the handset firms.
"We have been helping them as much as we can on the software, this is very low level RF driver software, highly specialised," said Hendy.
"Qualcomm is the only other supplier that seems to have a grip of the software for ET," said Hendy.
Nujira believes ET true potential will be seen in China with the rollout of 4G based on TD-LTE and it has demonstrated even bigger efficiency power gains than with European LTE.
Nujira demonstrated that its high bandwidth 20MHz NCT-L1300 ET modulator chip achieved twice the energy saving for RF power amplifiers (PAs) operating in TD-LTE mode compared to lower bandwidth ET designs.
"Despite being much simpler to develop, 5MHz, or even 10MHz, ET components will not deliver much benefit in a TD-LTE system," said Tim Haynes, CEO, Nujira.
"Chipset vendors and handset OEMs really need ET solutions that can support the maximum 20 MHz bandwidth in order to optimise the RF front end to extend battery life, improve coverage and increase data rates."
As the TD-LTE market develops – and gets more competitive – we are confident that the increased energy saving of our technology will provide a critical commercial advantage to handset manufacturers."
Nujira will be demonstrating 20MHz TD-LTE ET transmission on its stand (7B31) at Mobile World Congress (24-27 February).
Nujira's test results and analysis are detailed in a white paper published today and available for download from www.nujira.com/td-lte.
Nujira has also demonstrated that ET can support 40MHz for LTE-Advanced.
ET increases radio transmission power efficiency by reducing the peak power consumption by the power amplifiers which drive the transmitter in mobile phones and basestations.