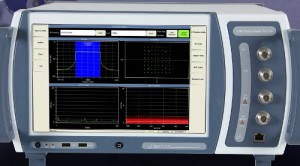 Cat 6 capability is available through an upgrade to the standard 7100 software and the use of a RF combiner.
"The LTE-A capability of the 7100 facilitates testing to 3GPP Release 10 specifications on two non-contiguous component carriers, with both FDD and TDD modes supported, and with 2×2 downlink MIMO or SISO for each component carrier. All Release 10 RF band combinations are supported, including the downlink-only Band 29," said Aeroflex.
Symmetrical bandwidths of 5+5, 10+10 and 20+20MHz are supported, along with asymmetrical bandwidth combinations that include 5, 10, 15, and 20MHz.
Also at Mobile World Congress, Aeroflex will be demonstrating a system for testing the offload of live data calls between LTE and Wi-Fi.
"With LTE and LTE-A networks experiencing ever-increasing demands on their capacity, Wi-Fi offload is one of the most important areas of technology advancement in the industry today," said Evan Gray, product and marketing director of Aeroflex.
The Wi-Fi offload test system comprises an Aeroflex E500 LTE Capacity Test System, including D500 Real Data Generator, Evolved Packet Core (EPC) for LTE/Wi-Fi, and Wi-Fi STA (station) systems.
Aeroflex will use a small cell LTE eNodeB and commercially available Wi-Fi wireless access point.
Wi-Fi offload is one of the features being introduced in the LTE and LTE-A standards that will give operators new tools to manage higher data consumption and also offer improved quality of service to subscribers.
"To gain the maximum advantage from these features, operators and vendors need to ensure that they are correctly implemented and are commercially robust, but will also need to optimise performance, scheduling and offload algorithms and to model a wide variety of real world traffic scenarios," said the firm.