MWC 2014: Sequans demos LTE Broadcast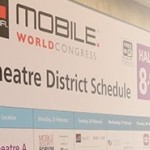 Sequans Communications and Alcatel-Lucent  are demonstrating LTE carrier aggregation, using Sequans' Cassiopeia LTE-Advanced Platform, and LTE Broadcast, using Sequans' Mont Blanc LTE platform.
Using tablets incorporating Sequans' eMBMS-capable Mont Blanc LTE platform, video content will be broadcast from Alcatel-Lucent's LTE Overlay solution.
Take the Electronics Weekly UK Salary Survey 2014 »
"These demonstrations will show the commercial readiness of both carrier aggregation and LTE Broadcast in our chip solutions," said Georges Karam, Sequans CEO.
Paris-based Sequans' Cassiopeia LTE-Advanced Platform complies with 3GPP Release 10 specifications and offers carrier aggregation whereby any two carriers of any size up to 20MHz each can be combined.
Sequans Mont Blanc LTE platform is Verizon Wireless certified, complies with 3GPP Release 9 specifications, and supports category 4 throughput, eMBMS, and other advanced features.
"Our eMBMS technology has been thoroughly proven by operators in several countries, and now our carrier aggregation technology will enjoy a similar reception in this, its first public demonstration with Alcatel-Lucent," said Karam.
According to Glen Booth, v-p of the LTE business at Alcatel-Lucent: "By working together, Alcatel-Lucent and Sequans intend to accelerate the adoption of the technologies."

Related Tech News
Share your knowledge - Leave a comment