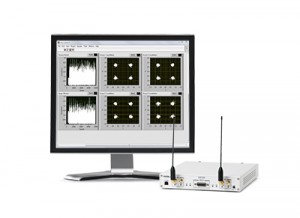 Nokia is using NI's integrated hardware and software baseband platform to demonstrate the viability of high-frequency millimeter wave as an option for 5G radio access technology.
"Our experimental 5G Proof-of-Concept system will be implemented using NI's LabVIEW and PXI baseband modules, which is the state-of-art experimental system for rapid prototyping of 5G air interface available today," said Lauri Oksanen, vice-president of research and technology at Nokia.
Aspects of the next generation mobile communications technology the companies are researching are peak data rates and cell-edge rates in excess of 10Gbit/s and 100Mbit/s, respectively.
National Instruments has a software defined radio (SDR) platform, based on programmable hardware, for prototyping multi-channel wireless communications systems.
Built on FPGA-based RIO programmable hardware, the USRP RIO platform incorporates a 2 x 2 multiple input, multiple output (MIMO) RF transceiver capable of transmitting and receiving signals from 50MHz to 6GHz.
According to Eric Starkloff, NI executive vice-president of global sales and marketing, the software-defined platform "is ideal for researching and prototyping standards such as 5G."