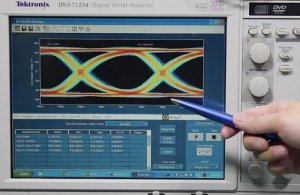 For example there are AEC-Q100 qualified signal repeater chips, which it brands 'ReDrivers', for longer USB 3.0 and PCIe cables. ReDrivers compensate for signal distortion, but do not digitally re-time signals – take a look at this Pericom video.
As well, "PI7C9X2G308GP is the industry's only PCIe 2.0 packet switch that supports x4 upstream to 2 x2 ports downstream, and AECQ 3-Port / 4-Lane packet switch for infotainment applications," claimed Pericom.
There are also PCIe 2.0 packet switches with integrated clock buffers, and what is claimed to industry's only AEC-Q100 qualified 100MHz PCIe clock generators – aimed at automotive infotainment.
Products sampling or newly in production:
Connection:
PI7C9X2G608EL: PCIe 2.0 6-ports, 8-lanes packet switch
PI7C9X2G308GP: PCIe 2.0 3-ports, 8-lanes packet switch
PI7C9X2G312GP: PCIe 2.0 3-ports, 12-lanes packet switch
PI7C9X2G304SLBQ: PCIe 2.0 3-ports, 4-lanes packet switch for automotive
Timing:
PI6C557-05Q: PCIe Gen1/Gen2 4 output clock generator
PI6C557-03AQ: PCIe 2.0 clock generator with 2 HCSL outputs
PI6C557-01BQ: Single HCSL output PCIe clock generator
Signal repeaters with equalisation and emphasis:
PI3EQX7741AIQ: 3.3V, 5.0Gbps 1-port USB3.0
PI3EQX501BQ: 3.3V, 5.0Gbps (Single-Channel) USB3.0
Switching:
PI5USB30216C/D: USB Type-C™ plug orientation (CC pins) detector
PI4IOE5V9539: 16-bit I2C-bus and SMBus low power I/O port with interrupt and reset