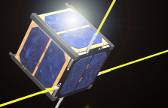 The spacecraft, which has been created volunteer radio amateur organisation AMSAT-UK, will join a number of other spacecraft on a DNEPR rocket sometime in the third quarter of 2012
"Our target audience is students at both primary and secondary levels, and a simple cheap USB dongle 'ground station' for schools has already been developed," said a FUNcube spokesman.
The 145MHz dongle means satellite signals can be received directly by students.
"Telemetry will give details of the spacecraft's health – battery voltages and temperatures – and from this it will be possible to determine its spin rate and attitude by plotting simple graphs," said the spokesman. "Additionally, experimental data and messages can be displayed in an attractive format and provide stimulation and encouragement for students to become interested in STEM [science, technology, engineering and mathematics] subjects in a unique way."
There is also a 435 to 145 MHz linear transponder for radio amateurs to use during local non-school times.
Launch will be from Yasny in southern Russia near to the Kazakhstan border, brokered by Delft-based ISIS Launch Services.
"The spacecraft needs to be completed by the end of July 2012, ready for shipping from the Netherlands to Russia," said the spokesman.
Its orbit awaits confirmation, but is expected to be nearly circular and approximately sun synchronous. "This will ensure that the spacecraft has the necessary solar illumination and that it will appear at regular times for educational outreach activities at schools and colleges," said AMSAT-UK.
FUNcube production and testing has already been paid for, but "it will really help the project if radio amateurs and other interested supporters could contribute something towards the cost of the actual launch", said the spokesman. "All donations equivalent to £25 or more will be specially acknowledged by the spacecraft itself."
Contribute through the Virgin Giving charity donation website.
There is also a second FUNcube mission – 'FUNcube-2 on UKube' – which will be a set of FUNcube PCBs flying aboard the UKube triple-cube satellite.