Rohm develops high speed powerline comms devices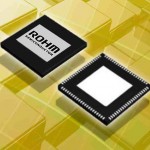 Rohm is developing a baseband IC compliant with HD PLC Inside, a newly developed embedded broadband high-speed power line communication technology designed for home appliances, BEMS, HEMS, and HAN applications that makes it possible to configure home networks using existing power lines.
This new standard incorporates intermittent operation functionality for significantly reduced power consumption compared with existing PLC devices.
Rohm will describe at European Utility Week (Amsterdam, Oct. 15 – 17), the device which incorporates HD-PLC Inside baseband processing functionality and an ARM7TDMI core for handling TCP/IP and other protocols.
"Recent years has seen increased adoption of smart grid systems such HEMS, BEMS, and HANs that connect multiple home appliances and devices and enable remote operation, energy management, and other functions that promote greater efficiency and convenience," said Rohm.
First chips will be sampling in March 2014 with production in June.