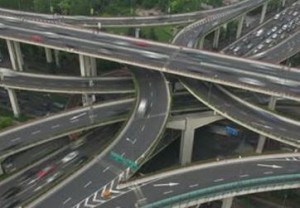 The u-blox UBX-M8030-Kx-DR chip integrates a radical new technology, "3D Automotive Dead Reckoning" (3D ADR) which enables it to calculate a vehicle's position, speed, as well as elevation in areas of poor or no satellite visibility, a common scenario in high-density urban environments, stacked highways, or parking garages.
Click here to view a two-minute YouTube video demonstration.
"Regardless of satellite visibility, our 3D ADR chip shows movement in three dimensions to maintain continuous and accurate positioning in tunnels, stacked highways, multi-level or underground parking facilities," said Thomas Nigg, v-p product marketing at u?blox.
The technology aids traditional GNSS navigation systems such as GPS, GLONASS and BeiDou by blending them with individual wheel speed, gyroscope and accelerometer information to maintain accurate 3D positioning even when satellite signals are completely lost.
The UBX-M8030-Kx-DR chip is self-calibrating to compensate for sensor aging and temperature effects. It is compatible with most vehicles and drive trains (i.e. front-, rear-, all-wheel drive), and supports a variety of sensor combinations.
Sensor information can be derived from the vehicle's sensors for the most cost-efficient implementation, or from external sensors for after-market solutions. The chip is AEC-Q100 qualified and is produced in ISO/TS Automotive certified production sites.
The chip comes in a 40-pin QFN package measuring only 5 x 5 mm and includes I2C, SPI, UART and USB interfaces.