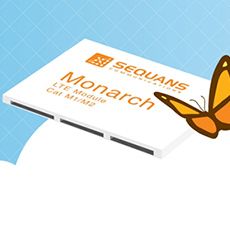 Called Monarch, it is designed and optimized to support low data use, ultra low-power, cost-sensitive, narrowband IoT applications such as smart energy meters, industrial IoT sensors, asset trackers, smart city controllers, and consumer wearables.
Monarch integrates baseband, RF, RAM, and power management are integrated in a 6.5 x 8 mm FC-CSP package. Monarch supports both of the narrowband categories defined in the Release 13 standard: Cat M1, 1.4 MHz bandwidth; and Cat M2, 200 kHz bandwidth.
Monarch includes programmable RF filtering technology that enables the simple design of a single worldwide SKU that supports nearly any LTE band and enables global roaming; and dynamic power management that adapts chip-level power profiles in real time based on traffic patterns and use cases, making possible 10-15 years2 of battery life in real-world IoT applications.
"Monarch is the industry's first Cat M1/M2 chip and it is highly optimized to address the size, cost and power requirements of IoT applications," says Georges Karam, Sequans CEO. "We've innovated to minimize power consumption, reduce the bill-of-materials, and simplify implementation of a global-ready device to maximize Monarch's market reach."