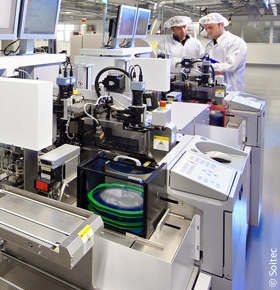 Soitec estimates that it has shipped enough substrates to fabricate more than 1.4 billion RF front-end semiconductor devices.
Soitec said that customers are already shipping wireless-communication ICs built on eSI substrates. As a result it is shipping more eSI products than high-resistivity silicon-on-insulator (HR-SOI) wafers, which are also used in fabricating RF devices.
"In a very short time, our eSI product has been widely adopted by most of the leading foundries considering it to be the substrate of choice for their products," said Bernard Aspar, general manager of Soitec's communication and power business.
"We are already working on next generation products to address future LTE Advanced challenges," said Aspar.
The eSI substrates, on which RF devices are manufactured, are designed by introducing an innovative material (a trap-rich layer) between the high-resistivity handle wafer and the buried oxide.
This layer limits the parasitic surface conduction present in standard high-resistivity silicon-on-insulator (HR-SOI) substrates, boosting the performance of RF devices.
Because this layer is built into the substrate, it reduces the number of process steps and relaxes design rules.
Typical RF devices manufactured in this way include switches, power amplifiers and antenna tuners.