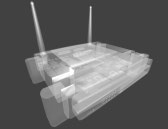 The future is always an exciting place. Remember the "Star Trek" series, when the crew used communication systems or badges for translation, authentication and subspace links? Back on Earth, cell phones, PDAs and PCs continue to evolve toward those fictional devices, but users have the same expectations of features, availability, reliability, scalability and cost.
Spelling out GNU and Linux stories
We rely on communication networks made up of access points, aggregation and core devices plus servers for providing services and connecting end devices.
The more users or calls a network carries, the less downtime is acceptable to the user or the network operator, and this has been a challenge for equipment suppliers. Five nines (99.999%) of uptime per year is a common requirement, with six nines (99.9999%) being requested for core components.
Telecoms equipment has to be built with this as a requirement, and previously proprietary hardware and software was used to achieve the five nines reliability. After that, designs were based on standardised CompactPCI hardware but still ran in-house-developed systems and application software. But the development costs were too high for the low margins needed in today's business.
This approach also did not keep up with the growing demand for new services such as voice and video over IP, higher bandwidth (Gigabits/second) and lower investment costs, nor was it flexible enough to use new technologies such as multi-core CPUs and virtualization quickly and easily – and therefore provided the stage for a new set of open platforms using commercia l-off-the-shelf (COTS) hardware and open systems software.
A different approach
The PCI Industrial Computer Manufacturers Group (PICMG) released the first Advanced Telecom Computing Architecture (AdvancedTCA, ATCA) Base R1.0 specification in 2002, and at the same time the Carrier -Grade Linux (CGL) working group of the Open Source Development Labs (OSDL) published its CGL Requirements Definition Documents V1.1. This combination eventually became the great white hope for carrier-class equipment.
After six years of hype and disappointment, the market for carrier-class equipment built on CGL and ATCA specifications has reached $2 billion and is set to grow to $5 billion in 2012, according to market researchers IDC.
Original equipment manufacturers such as Advantech, Emerson Network Power (which acquired Motorola's ECC board business and Artesyn), Kontron, Mercury Computer Systems, RadiSys, Sun Microsystems and others are all providing ATCA systems and components, while network equipment providers, or NEPs, such as Alcatel, Nortel, Motorola, NEC and Nokia Siemens Networks are selling ATCA-based systems running CGL in volumes. This market is alive and kicking, no question.
Standardising complexity
Part of the challenge has been handling the complexity of the specification. Nine companies contributed to the first CGL specification release, which contained a total of 91 requirements. The next version, 2.0.2, was mainly a revision of 1.1, adding clustering and security as new categories and raising the number of requirements to more than 150, but the key point was to focus on releasing specifications, which allow flexibility in the implementation, rather than having fixed standards.
The next major release of the CGL requirements was a year-long jump: Version 3.0 was released in February 2005, to be followed by version 3.1 only four months later. Most CGL systems now deployed in the field are based on the version 3.2 release of requirements that came in February 2006.
Version 4.0 was released in March 2007 by the Linux Foundation Carrier Grade Linux working group and this set another milestone. This version started to incorporate prioritised requirements identified by the SCOPE Alliance, an association of NEPs that includes Alcatel-Lucent, Ericsson, Huawei, Motorola, NEC, Nokia Siemens Networks and Nortel. This SCOPE Linux specification aims to accelerate the market deployment of carrier-grade platforms by developing profiles that describe what minimum requirements a control and management carrier-grade platform must have.
The SCOPE Alliance also described features that are not currently included in the CGL 4.0 specification. The profiles help to streamline implementations of specifications by describing the options and features of the underlying specifications that SCOPE considers to be necessary and sufficient in implementing carrier-grade platforms, while the gap analysis identifies missing functions or options in existing specifications.
SCOPE has links with the Linux Foundation, Service Availability Forum and others, with individuals often being members of more than one industry alliance, to ease the coordination of the development of the different specifications.
CGL4.0 Is Dead; Long Live CGL 5.0
Before starting to work on version 5.0, the CGL working group analysed how accepted the specification had become, what works and what doesn't. It worked closely with the Linux Foundation, members of the Linux community, the SCOPE Alliance and other NEPs in order to determine new requirements from these parties and document the requirements of NEPs that are not currently implemented in any stable or mature open source project. By working closely with the Linux community and Linux Foundation to get more requirements implemented and submitted upstream, these requirements may eventually become a part of the mainline kernel.
To accomplish this, the charter of the working group was changed: The working group used the CGL 4.0 requirements as a starting point and split them into requirements that already exist in some mature open source project and requirements that do no exist today. For each gap it was decided to either delete it because it would never be implemented in open source, or describe why the requirement is necessary and provide examples of how it would be used.
The "satisfied requirements" list also provides suggestions of existing open source solutions but does not specify a specific implementation so that this is still left to the community and companies providing Carrier Grade Linux distributions.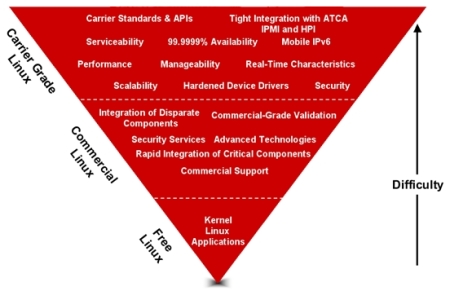 Carrier Grade Linux makes COTS and ATCA benefits a reality, but not an easy one
Above the OS
Besides the Linux Foundation and SCOPE Alliance there are two other key contributors to Carrier Grade Linux: the SAForum and Open Service Availability Framework, or OpenSAF. The SAForum develops high availability and management software interface specifications that allow carrier-grade systems to deliver 24/7/365 services to customers, even if a hardware part breaks in two pieces or an application crashes, as long as there are hot standby hardware and applications that can take over the work seamlessly.
The SAForum has published the Hardware Platform Interface specification that monitors and controls the platform hardware and relies for that partly on the Intelligent Platform Manageme nt Interface. It provides discovery, event, alarm and event log functions and helps to manage the hot swap of hardware parts.
Alongside this, the Application Interface Specification includes services to manage cluster membership, checkpoints, events, messages, locks, notifications and logging.
Besides the specifications there is the implementation. To satisfy the SAForum HPI interfaces there are numerous commercial implementations, as well as the OpenHPI and OpenIPMI active open source projects.
To provide an implementation for AIS, the OpenSAF project was launched in 2007. The project is backed by the OpenSAF Foundation that includes Emerson Network Power, Ericsson, Nokia Siemens Networks, Hewlett-Packard, Sun Microsystems and Wind River as members.
The project did not start from scratch but uses work done by Motorola ECC (now a part of Emerson Network Power) to save time in implementation and testing. The results of the OpenSAF work will be made available under the LGPLv2.1 license, satisfying the needs of both the community as well as companies adopting and using it.
The necessary OS functionality
Building a carrier-grade system is a complex project. An implementation of Carrier Grade Linux 4.0 provides the necessary operating system functionality, while work from OpenIPMI, OpenHPI and OpenSAF addresses the high-availability middleware.
The upcoming CGL release 5.0 will incorporate the work of other industry alliances such as SCOPE, making it even more optimised to the specific needs of the telecoms market. CGL-based systems are ready for prime time now, rather than in the distant future.
Hans Juergen Rauscher is the system architect for networking for Central Europe at Wind River in Germany who consults with telecoms accounts about networking technologies and Linux.