What is LTE-Advanced, and how is it going to be tested?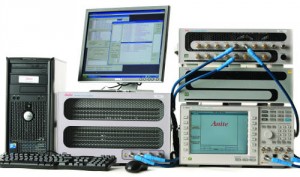 Prepare yourself for acronym soup as Electronics Weekly delves into the world of 4G phone networks to find out how three test equipment companies are dealing with the needs of chipset makers, phone developers, network operators, and the telecom specification pipeline.
The 4G telecom equipment that has been installed around the world so far is implementing LTE, which stands for long term evolution, a name coined when the techniques involved were still on the horizon.
Some say LTE did not quite meet the requirements of a new generation of telecom system and that marketing folk jumped the gun when they called it 4G.
What everyone does agree, is that an extension to LTE called LTE-Advanced (LTE-A) is a full generation beyond 3G. When it is up and running, you may here is called something like True 4G.
Realistically "LTE-A is 4.5G, very much a stepping stone between 4G LTE and fifth generation. It isn't fifth generation, which is off in something like 2020″, Steve Edwards of Rohde and Schwarz told Electronics Weekly. Rohde and Schwarz, Anite, and Anritsu are amongst firms developing and selling test equipment for the phones of the future.
What does LTE-A add to LTE.
The short answer is: carrier aggregation, higher-order MIMO, and hetrogeneous networks.
Carrier aggregation
The maximum LTE-A down-stream data rate between a single basestation and a single handset is 300Mbit/s.
Achieving this needs 100MHz of bandwidth, which no network operator has in one chunk of spectrum.
Instead, to get 100MHz, five 20MHz bands, called 'component carriers' have to share the data load.
Carrier aggregation is the capability required at both basestation and handset to split and re-combine one stream of data packets across multiple component carriers, or many streams of packets (total 300Mbit/s max.) to multiple handsets across multiple carriers. Carriers will be re-allocated once every 1ms.
"Carrier aggregation is obviously the priority feature within LTE-Advanced," said Edwards. "Not only aimed at increasing peak data rate, but mainly adding flexibility in spectrum use and resource allocation."
In initial LTE-A implementations – as even LTE-A is not one single thing, but a series of staged feature introductions – only two component carriers will be aggregated.
Higher order MIMO
The data rate and quality of a point-to-point radio link can be improved if the link is shared between more than one antenna at one or both ends of the link. This is MIMO (multiple-input multiple-output).
It requires antennas to be separated physically, uses various techniques to drive and demodulate the different antennas, and can for example strengthen a link against multi-path destructive interference in a reflective environment.
LTE allowed 2×2 MIMO – two antennas at either end. LTE-A allows for more.
"You can have eight at the base station and four at the mobile. It uses the same spectrum and adds a small amount of diversity, in time or phase, which can be summed to find missing bits," said James Goodwin director of product management at Anite. "One of the challenges of MIMO is that you need antennas sufficiently far apart on the mobile, so four antennas might suit tablets, not miniature handsets."
Heterogeneous networks
In an LTE system, all cells have to be standard cells ('macrocells') – covering the usual one or few kilometres. LTE-A allows small cells, for example femto cells, to be integrated in the network where increased capacity is required. A network with different kinds of cells is a heterogeneous network (HetNet).
"Higher data rate is one big trend in the industry, another challenge is capacity," Jonathan Borrill, director of marketing at Anritsu, told Electronics Weekly – which is where femtocells can help.
The HetNet feature of interest right now is inter-cell interference cancellation (ICIC), which helps particularly with link quality around the edge of cells.
"Inter-cell interference cancellation was introduced in original LTE, but the architecture doesn't support femtocells," said Borrill. "LTE-A can deliver 300Mbit/s to one phone, or 1Mbit/s to 300 phones, but what about 600 people, or 10,000, or 100,000 in a stadium.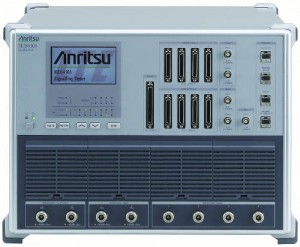 According to Borrill, a traditional LTE basestation can handle one carrier and offer 100 or 150Mbit/s. At a cell site, there are up to nine basestations and nine antennas delivering three carriers in each of three 120° directions.
If the cell includes a sports stadium, it will quickly run out of capacity. Many, myabe four, maybe 100, femtocells inside the stadium will dramatically increase capacity, but with traditional LTE (known as 'Release 8′ LTE) there is no way to co-ordinate the re-use of spectrum that will have to occur between the local macrocell and the femtocells.
"Enhanced ICIC (eICIC) is one technology of HetNet, it's in Release 10, which allows femtocells to re-use frequencies by better controlling timing and coordination between femtocells. In a stadium, when a femtocell transmits, the macro cell switches off," said Borrill. "The macrocell would fill in gaps: cover the corridors and places the femtocell don't reach."
The Releases above are milestones, agreed amongst network operators and other stakeholders – like chip and handset makers – introduced in the continuous flow of mobile phone aspirations and technologies to bring some order into the process of delivering services.
Releases are in a pipeline: There are several at different stages at any one time.
Co-ordinated multi-point is another HetNet technology – scheduled in later Releases.
"Release 10 is frozen, it is a full definition and you could build a network against it. There are a few bits missing, and a few mistakes, just a tidy-up is needed. It includes the first set of carrier aggregation [two component carriers]," said Borrill. "Release 11 has another tranche of carrier aggregation features, and 12 has another tranche of carrier aggregation features. eICIC is one step behind carrier aggregation. It will develop in release 10, 11, 12."
The whole industry, through bodies like the 3GPP (which is made up of representatives from the whole phone industry: operator, chip, equipment and test firms), contributes to forthcoming Releases.
Right now, said Borrill, R&D teams are testing carrier aggregation features for Release 11 and Release 12, while certification teams are certifying handsets for Release 10 (2x) carrier aggregation.
This pipeline, punctuated by Releases, is what test equipment companies sell into, and contribute to.
As the workload is enormous, industry clubs together through the 3GPP to produce a set of test cases likely to be needed to certify a handset.
Two certification bodies run by the operators: GCF and TTCRB, select subsets of the 3GPP tests that they consider will separate good handsets from bad handsets.
"95% is common basic bread-and-butter stuff, said Borrill. "Each operator may add their own private tests."
To prove their test equipment can effectively execute any particular test case in the 3GPP set, test firms employ third party companies to evaluate their equipment executing test cases on handsets bought from the open market.
The language is that test cases are 'validated' so that they can 'certify' a handset to that test case.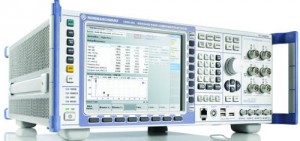 Firms like Rohde and Schwarz, Anite and Anritsu need to have their equipment and tests validated because the length and quality of their case list is one of the things potential customers consider.
A virtuous circle exists here, as the test firms work with companies developing chipsets and handsets to hone the tests, and this activity reveals flaws in the test case set.
"On R&D side, we are helping our customers [chipset and handset vendors] to debug test equipment and handsets," said Borril. "We often find faults in 3GPP: errors or where they didn't consider a case."
Anite's Goodwin makes a related point: "All the standards-based testing gives part of the picture. We have expertise to cover parts missed by standards. It's about interoperability and user experience. It's an ever-evolving situation. Handset manufacturers get tests [to execute] from multiple network operators. Each operator endorses its own set of tests. Tests sets can be remarkably different. With some operators, we develop test for them, and these are supplied to their suppliers."
Test companies are currently getting validated on carrier aggregation, guided by the GCF which puts primacy on what is validated through 'work items', according to Anritsu's Borrill.
After carrier aggregation, different types of MIMO are being considered, said Borrill, although "it looks like high-order MIMO is less and less of a priority with network operators because it needs a re-wiring of base stations. "Femtocell and HetNet is also being pushed by network operators. Both aggregation and femtocell are principally software upgrades to the network [cell sites] – relatively small investment, relatively large return."
MIMO always needs changes to the hardware on cell sites, and new handsets with more antennas.
"It was introduced in 3G, but the cost outweighed returns and no one chose to implement. With LTE, they had to change the basestations anyway and LTE is quite efficient with the basic 2×2 MIMO, there is a substantial gain, so it was implemented. The question is always: what is the incremental gain versus incremental cost?"
As high-order MIMO is not high on the operators' priority list, handset manufactures will not be putting it into their handsets yet as extra antennas and DSP increases sale price.
That said, there is some activity: "In LTE-A, industry is starting to look at 8×2. Customers are testing 4×2 MIMO now," Rohde and Schwarz mobile coms sales manager Lindsay Harris told Electronics Weekly.
Whatever is being tested: handset, chips set, or reference design; the test equipment essentially does the same job.
"The test gear looks like a basestation and the whole radio environment. The handset is oblivious to it not being a real situation," said Anite's Goodwin.
At the beginning of development, when protocol stacks are created "there is no hardware at all, it is purely a software environemnt," he said. "Then there is cable RF testing."
According to Goodwin, testing over cable was historically how most RF testing was done, but the introduction of MIMO has increased the need for radiated (over-air) testing.
"This is a very technically challenging area. Interference, noise, reflections, and how fast the handset is moving all have a big impact, and the radio signals at each antenna are subtly different.
That said, MIMO testing can be done. It just requires a lot of hardware to emulate all those effects on each of the antenna to antenna links.
Carriers – the network operators – are big testers.
"One of the things we are seeing with LTE and LTE- Advanced is increasing expectations from handset users – speed of download and quality of call. Network operators will run thousands of tests on handsets," said Goodwin.
Traditionally, network operators did all testing by field trials – driving around the area. This is particularly challenging if the area large: all of North America, for example.
"We have been working on bringing as much of this into the lab as possible. You can predict signal quality and what data rate you will get. It still doesn't replace all field testing," said Goodwin. "We have tools that capture real data from network and replay it in the lab, and a vast swathe of different test scenarios."
Test companies tend to provide one-box or one-rack hardware for all levels of testing, sometimes with expansion for more complex testing, with software reconfiguring it to implement test cases. Efforts are made to future-proof hardware by allowing upgrades by firmware or changes to internal cards or modules.
Anritsu's RMD8430 hardware is at the centre of its handset test products.
In the lab, it is used with the firm's RTD (rapid test designer) software – which now covers eICIC and multiple carriers.
There are two flavours of Anritsu conformance tester:
MD8430 plus protocol test conformance software (collectively known as ME7834L) tests the protocol stack through a simple RF channel.
MD8430, some more hardware, plus a different software package allows RF and RRM (radio resource management – hand-over for example,) testing using a simple protocol.
Anite has its Conformance Toolset for pre-compliance and compliance work.
The central basestation-simulating hardware is the Anite 9000, which covers 3G, LTE, and now LTE-A.
"Conformance Toolset has a software suite of several thousand tests. LTE-A is additional software within Conformance Toolset," said Anite's Goodwin.
Still based on the 9000, a package called SAS mimics real-world conditions for network operators.
For lab work, Rohde and Schwarz offers a signal generator (the SMW) and a spectrum analyser (the FSW). Although the company uses generic test gear names here, they are both protocol and header-capable
"We have solutions for 2G, 3G, 4G. It is one box, basically a basestation. Put a test SIM in the phone and the test equipment will set up a call with the phone – a data call, voice call, or SMS call," said Rhode and Schwartz' Edwards.
For more advanced testing, CMW is the unit that combines SWM, FSW, up-link and down-link to simulate a base station, said Edwards, "commanding a phone into hundreds of states up to and including 4G.
"CMW500 is able to test LTE-A today. We have had customers using it for a while," said Rohde and Schwarz mobile coms sales manager Lindsay Harris.
A fully-compliant test system for protocol and radio testing adds interference, fading, and other real-world adds more hardware and software to the CMW.
"4×2 MIMO requires additional hardware, but it is still in one box for Rohde and Schwarz," said Harris.