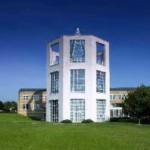 The demonstration by the Weightless SIG was shown at the 5th Future of Wireless International Conference by Weightless SIG Core Member, Argon Design.
In the demonstration, a model bridge equipped with strain gauges sensing displacement in the bridge structure is connected to an early evolution Weightless terminal device measuring 115mm x 60mm x 30mm built into the bridge structure.
This communicates over a Weightless air interface to a base station that could be sited several kilometres from the bridge. In this demonstration a user application processes the data to determine when the parameters measured by the sensors integrated into the bridge structure fall outside of expected values to warn of potential structural problems such as metal fatigue and degradation.
White space communications involves using frequencies that are already allocated to licensed users, but are not being used for that application in the particular geographical location of the white space system, at that particular moment.
As such, they either need to 'sniff' the local radio environment, or consult a live maintained geographical database, and vacate immediately if a licensed user needs the frequency.
"Devices may need to rapidly vacate a channel if it is needed by a licensed user," said the Weightless Special Interest Group (SIG). "They must consult a database to be informed as to the channels they can use and must quickly move off these channels as required."
According to the SIG: "The FCC has specified 4W effective isotropic radiated power (EIRP) for base stations and 100mW EIRP for terminals. White space devices must not interfere with existing users of the spectrum, predominantly TVs. Hence, the energy that they transmit must remain almost entirely within the channels they are allowed to use. The FCC has specified that adjacent channel emission need to be 55dB lower than in-band emission, a specification much tighter than most of today's wireless technologies."
"This public demonstration marks a watershed moment for Weightless technology," said Alan Scott, CEO of Argon Design.
Commenting on the demonstration, Professor William Webb, CEO of the Weightless SIG said "This is a great proof point of the progress that the technology has made recently following the announcement of working silicon and completion of the Specification to version 1.0 earlier this year". With over 950 worldwide Members already, the Weightless SIG continues to grow strongly and we expect to progressively see more applications developed over the course of the next few months".
The 5th Future of Wireless International Conference took place on 1st & 2nd of July at The Møller Centre in Cambridge, UK.