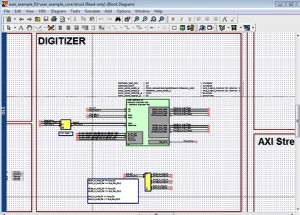 "Our close partnership with Mentor Graphics enabled us to create today's most powerful FPGA development kit for high-speed digitizers," said Didier Lavanchy, operation manager for Agilent's high-speed digitizers group.
The custom Mentor Graphics design engine, which includes HDL Author, ModelSim PE and Precision Synthesis, implements the design, synthesis, simulation and validation of signal-processing algorithms. Place-and-route and a bitfile-generation engines are included, also providing debugging capabilities.
"We have used the kit to design firmware options currently available in our products, and beta customers have successfully implemented a variety of algorithms. For them and us, the U5340A has significantly reduced development time and, for the first time, made possible multi-gigasample-per-second real-time processing," said Lavanchy.
"To help users focus on creating solutions, the FPGA development kit also includes the following elements: a library of building blocks, from basic gates to dual-port RAM memories; a set of IP cores; and ready-to-use scripts that handle all aspects of the automated build flow. A full-speed design example and companion software ensure efficient system integration," said Agilent.
All cores are based on the AMBA AXI4 standard for easy integration and efficient use of their high-performance capabilities.
Pre-synthesised and area-constrained IP cores accelerate the build and ensure repeatable results. The FPGA development kit also embeds complete calibration capabilities to ensure the unmatched analogue performance of Agilent digitisers when used with end-user firmware.
The first release of the U5340A FPGA development kit is available now for the recently announced Agilent U5303A PCIe 12-bit high-speed digitizer with on-board processing, and will be available for future products.
More information on the U5340A