Altium offers 3D modelling tool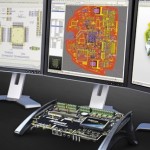 Altium has announced the availability of the SolidWorks modeler for the Altium Designer software suite.
The application has been created in collaboration with Desktop EDA.
It is Altium's first app development using the new Spotfire DXP 2.0 platform.
"This partnership with Desktop EDA represents our first steps in building a wider network of third party app developers," said Daniel Fernsebner, director of technical partnerships for Altium.
Through the DXP platform's unified data model, developers can create add-on apps that have access to all aspects of Altium's electronics design system.
Desktop EDA already develops 3D MCAD integration tools for electronics design systems including Protel and Mentor Graphics PADS.
Released earlier this month, the Desktop EDA offering includes apps that extend Altium Designer's native 3D PCB design features by facilitating advanced collaboration between MCAD and ECAD designers.
Additional apps are due later this year.