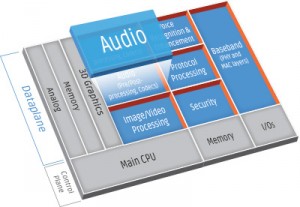 The 3D audio IP is designed to create a virtual 3D sound field across a listening area. It was used in Samsung Soundbars exhibited at the Consumer Electronics Show (CES) in January.
"We're seeing strong demand from our HiFi licensees to provide innovative audio/voice differentiated software solutions to allow their products to stand out, and we are getting strong interest for this efficient 3D sound experience," said Larry Przywara, director of audio/voice IP marketing at Cadence.
The 3D audio IP was ported to the HiFi DSPs by P-Product, a long-time Tensilica porting partner.
"We targeted the Cadence HiFi DSP cores for our first IP core port because they are the most popular and lowest power audio/voice IP cores on the market," said Rajeev Kapur, CEO of Sonic Emotion.
Cadence will be presenting an overview of its IP portfolio at the CDNLive event which takes place in Munich on May 19-21 at the Dolce Munich, Unterschleissheim.
The firm's growing IP business includes the acquisitions of silicon IP houses – Cosmic Circuits, Tensilica, Evatronix and Transwitch.