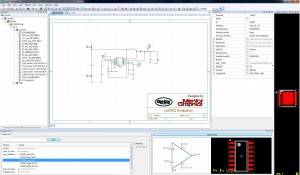 The Designer Schematic and Designer Layout tools are being offered for a 90 day period at a 30% discount, which means starting prices of $199 and $449, respectively.
These are being positioned as professional-level PCB design tools.
According to Randall Restle, director of application engineering for Digi-Key, the intention is to offer customers professional-grade CAD software will take them "to the next level of product design and prototyping without breaking the bank".
These are three new Mentor tools, based on its PADS enterprise-level PCB design tool, but with features and price tags to attract hobbyists and small-budget design teams.
"We believe this tool offering will target a specific type of engineer working on new designs and typically using a PCB tool on their PC, outside of the corporate environment," said Dave Brady, business development manager, Mentor Graphics
For Digi-Key, the PCB tool is more advanced than anything it currently offers and so will be used by its professional engineering customers as well as hobbyists.
The product licenses are sold as an annual subscription, exclusively from Digi-Key. Also, for a limited time, the software is available for a 15-day evaluation period, free of charge.
Designer Schematic and Designer Layout come with free access to Mentor Graphics' PartQuest, a fully integrated website that merges Digi-Key part numbers into symbols and footprints.
According to Henry Potts, vice-president and general manager of Mentor Graphics systems design division. "Together we found a way to lower the barrier of entry for engineers seeking better ways to accelerate cycle time from concept to prototype to production."