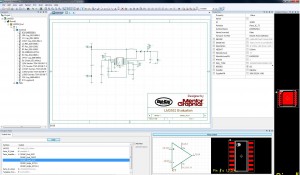 The three new tools are Designer Layout, a schematic capture tool called Designer Schematic and a component-sourcing tool called PartQuest.
The intention is to provide PCB design tools with component-finding software linked to the distributor's website and access to PCB design and fabrication services.
Digi-Key's parametric component data is used to help the design process by creating footprints.
According to Randall Restle, director of application engineering for Digi-Key, the intention is to offer customers professional-grade CAD software will take them "to the next level of product design and prototyping without breaking the bank".
These are three new Mentor tools, based on its PADS enterprise-level PCB design tool, but with features and price tags to attract hobbyists and small-budget design teams.
Designer Schematic costs less than £180 ($300), Designer Layout tool will have a number of options priced at around $650. The PartQuest component finding tool is free.
"We believe this tool offering will target a specific type of engineer working on new designs and typically using a PCB tool on their PC, outside of the corporate environment," said Dave Brady, business development manager, Mentor Graphics
These designers will be looking to make use of the newly available products and "not working from an approved list", said Brady.
For Digi-Key, the PCB tool is more advanced than anything it currently offers and so will be used by its professional engineering customers as well as hobbyists.
"It is a high-end tool for Digi-Key, and a low end tool for Mentor," said Restle.
For the beta release of the Designer Schematic Tool
Digi-Key's approach to PCB design support is different from that of its rival distributors.
In working with Mentor it has decided to offer tools from one of the big names in PCB design software.
Farnell element14 acquired CadSoft, a company supplying the Eagle PCB design tool. A hobbyist version of Eagle costs around £55 and professional grade tools start at around £240.
RS Components decided to create its own free PCB design tools.
Digi-Key will start selling the tools this summer.