GB Patent no: 2451946
Granted to: Samsung Electronics
Sometimes I miss my old 35mm (film!) SLR. It's not for reasons of nostalgia, but the problem with digital photography is that I just never get round to printing out the photos. Every now and then I have a good old image ordering session, but I'm still a few months behind.
For this reason, I am really excited about GB patent no. 2451946, which was granted on October 3rd to Samsung Electronics Co., Ltd of Korea. you've probably seen digital cameras that have face recognition; it is often a little box which bobs around the screen when the camera is pointed at a subject's head. Samsung's patent takes this feature and uses it in a very neat and clever way when you want to print mug shots.
So here's the scenario. You're trying to print out a head and shoulders picture of someone, so you find a photo with them in and crop around their head to get rid of extraneous material. However, what can happen next is that you find the proportions are not quite right so you either end up squashing their head to make them look flat in order for the picture to match the paper, or you elongate their head, which makes them look more like an alien.
Samsung's invention provides a method of printing an image whereby a printing area can be set variably, based on a position of the face which has been detected in an image without distorting the aspect ratio of the image. Firstly, you connect an image storage device, such as the camera itself, to the printer. Since the camera has already detected where the face is located in the image, the printer sets a temporary printing area on the image and then decides whether its aspect ratio coincides with that of the paper on which the image is to be printed. If these two do not coincide then the printer will adjust the area of the image to be printed around the identified face area until the two match, after which the printer will print the image.
The technology can also be applied to photos taken in a photo booth, which would mean no more swivelling of the seat up and down and leaning left or right, whilst trying to maintain a serious composure on your face – and from my own experience this will be of huge benefit when wriggly children are being photographed for such purposes!
Michael Jaeger is a patent attorney at leading UK patent and trade mark attorneys, Withers & Rogers LLP.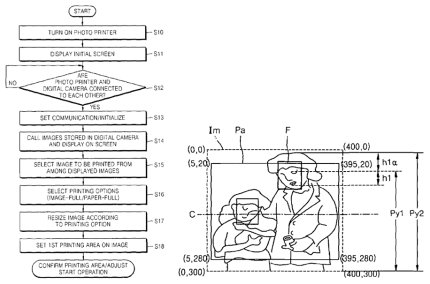 Previous Electronics Patent of the Months:
Electronics patent of the month: Method for determining RFID tag tampering
Electronics patent of the month: Aiding pilot choice of flight path modes
Electronics patent of the month: Multiple radio transceivers sharing an antenna
Electronics patent of the month: Mouse and modem in one
Electronics patent of the month: Motion triggered power saving
Electronics patent of the month: Sensors to avoid driver blindness