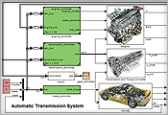 The toolbox, consisting of Simulink motor control blocks and target-ready code generation support, lets automotive and industrial controls engineers design motor control systems using Freescale microprocessors in IEC 61508 (SIL3) and ISO 26262 (ASIL-D) compliant systems.
"Our automotive and industrial automation processors are increasingly deployed by engineers who use model-based design," said Steve Pancoast, v-p of product solutions for Freescale's automotive and industrial group. 
As a result engineers can model designs using blocks optimised for execution on the MCUs and run bit-accurate simulations of those designs. 
"The blocks in the Motor Control Development Toolbox represent years of motor control IP, and now with the toolbox, engineers can automatically implement, verify, and optimise their designs for Freescale's newest processors."
According to Tom Erkkinen, embedded applications and certification manager at MathWorks, "Customer reaction to the breadth and depth of the capabilities provided by the motor control development toolbox  serves as a testament to the strength of Freescale's investment and support of model-based design."
According to MathWorks, the tool is used to design motor algorithms as well as configure and generate all software needed to execute the algorithms on any Freescale MPC5643L or PXS20 hardware platform.
The toolbox offers optimised code generation and support for model-in-the-loop (MIL), software-in-the-loop (SIL) and processor-in-the-loop (PIL) testing through Embedded Coder from MathWorks.
The Motor Control Development Toolbox supports the MPC564xL, MPC567xK and PXS30 and PXS20 MCU families. 
Block libraries in Motor Control Development Toolbox provide base math functions including trigonometry, PI controllers, FIR and IIR filters, and motor control operations including Park and Clarke transforms.  Peripheral block support includes ADC and PWM, as well as SPI and CAN buses.
The generated C source code can be automatically built with Freescale CodeWarrior IDE, Wind River Diab, Green Hills Software MULTI, and other compilers. For examining software on target hardware, the toolbox provides FreeMASTER, which enables parameter tuning, real-time monitoring, and data logging.
www.mathworks.com