Make changes to your PCB layout on an iPad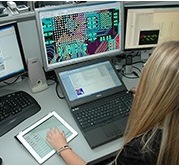 PCB design can now be done on a smartphone or tablet. Zuken has launched a PCB design app that allows designers to access and change layouts using their own tablet or smartphone.
The CADSTAR Touch App for  iOS or Android can be used to control Zuken's CADSTAR expert desktop PCB design software, giving simultaneous control of view and program functions.
The free app is available now with the latest CADSTAR release, which also features the firm's Activ-45 router and pusher technology that can be used to change existing designs.
Designed to make last minute changes, the Activ-45 router is a true 45-degree routing algorithm.  The route path will follow the cursor with minimum disruption of existing routing patterns.
The Activ-45 router makes space for itself by pushing existing routes and vias aside, while always obeying design rules. Where necessary, it will flip existing routes over pins and pads to create even more space, such as when creating a BGA fan-out. At any point before completing the route, if the cursor is moved back towards the starting point, the routes will spring-back to their original position.
CADSTAR Touch is available for free from the App StoreSM (iPhone, iPad or iPod touch) or the Google Play Store (Android).
Android users have the benefit of voice control. Features offered include: pinch to zoom, drag to pan and double tap to view all.