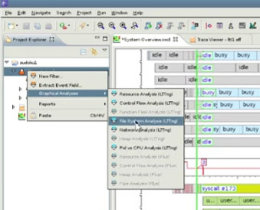 Expanding teams of software developers can remain in their core development environment and develop, debug, and optimize their complete software stack on virtual prototypes and emulation platforms, says the compnay, before and after first silicon.
"Software development and hardware development are deeply intertwined, yet intensely unique disciplines. Asking a software designer to use a hardware design tool is like asking a plumber to install your sink with an electrician's wire cutters," said Glenn Perry, general manager of Mentor Graphics Embedded Software Division. "
"It's critical to respect the uniqueness of each discipline and we believe our Sourcery CodeBench Virtual Edition delivers a true native software environment that deeply leverages our hardware design tool technology."
The Sourcery CodeBench technology is the leading development toolchain and integrated development environment (IDE) for embedded Linux development, which is now the de facto standard reference operating system (OS) on all SoCs.
The Sourcery CodeBench Virtual Edition product embeds the most advanced pre-silicon technology available from the hardware design tool flow, deeply into the native software environment.
This yields a significant time-to-market advantage, says the company, for software development teams by eliminating thevaluable time and effort spent learning unfamiliar traditional hardware design tools.
After acquiring CodeSourcery in 2010, Mentor Graphics modified the leading embedded development environment by embedding hardware design intelligence directly into the native environment. Conversely, the traditional EDA industry approach has seen limited success by attempting to modify hardware tools for use by software developers.
IP and SoC suppliers can speed time-to-market for their downstream customers by providing embedded software development capability, including software development kits (SDKs), before silicon. The same native software development environment can then be used downstream in the design flow alongside virtual platform representations provided by systems companies and OEMs to design and develop embedded systems ahead of silicon availability.
The idea is that embedded developers can simply transition to actual hardware with the same Sourcery CodeBench native development environment.