"Vehicle Systems Architect (VSA) enables Autosar-based system and embedded software design with support for FlexRay, CAN and LIN network design," said Mentor. "VSA facilitates the use of standard interfaces and components based on Autosar."
Autosar (AUTomotive Open System ARchitecture) comes from a worldwide development partnership of car manufacturers; car part suppliers; and electronics, semiconductor and software companies.
"The Autosar standard does a great job of standardising, but it doesn't necessarily simplify the design process," said Serge Leef, general manager of system-level engineering at Mentor.
"To design Autosar-based systems, you need tools that take the complexity out of the design process and allow development teams to focus on their real jobs of delivering application software, ECUs [electronic control units] or the networking system. This is what we are providing today."
According to Mentor, VSA focuses on model-driven design incorporating the Autosar standard, allowing engineers to design, explore and compare electronic and software architectures.
"This approach allows customers to reduce their reliance on downstream validation and physical prototyping," it claimed. "Automotive companies can move significant decisions and verification tasks to the front end of the design cycle."
More Autosar tools: for virtual integration, network design, compliance testing, ECU configuration; are in the pipeline.
"They are from scratch. We started almost two years ago from zero," Joachim Langenwalter, director for Mentor's automotive networking business told Electronics Weekly. "As well as VSA, some others have been released, but we have to have be certain they are accepted by customers before we launch them officially."
Mentor claims its suite will offer users correct-by-construction design methods to reduce reliance on test-oriented validation. For interaction between OEMs and tier1 suppliers, multi-partner distributed iterative development is supported.
"The number of Autosar ECUs is increasing significantly in the automobile industry within the next car generations. In order to design those systems, the industry is looking for an open tool-framework supporting the full Autosar metamodel for authoring, consistency check and validation; an example of this would be Eclipse. We don't need a short term solution but instead a solution which supports the future Autosar process even in a more long term perspective," said Autosar founder Dr Guenter Reichart.
Autosar interfaces define relationships between middleware subsystems and modules.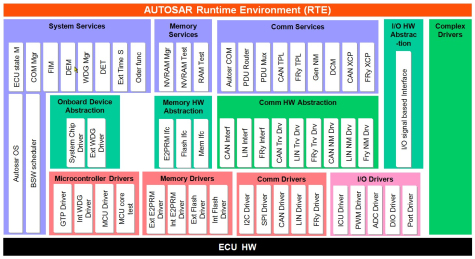 Autosar specifies a comprehensive collection of modules and interfaces in the ECUs.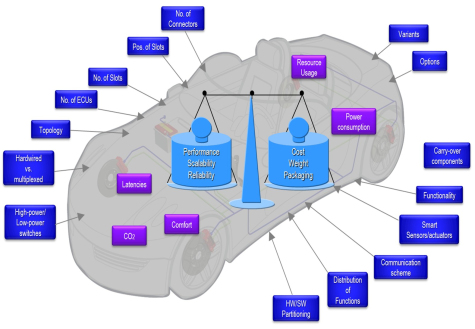 System architects face multiple, frequently conflicting requirements that need to be reconciled in order to create an efficient distributed system for a vehicle.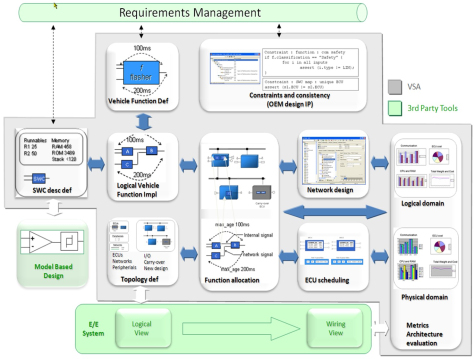 VSA combines capabilities that enable architectural design, function mapping, network design and analysis from logical and physical perspectives.