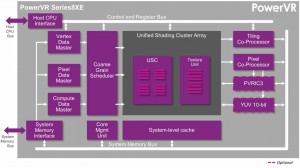 Called Series8XE, they "deliver the best performance/mm2 while incorporating hardware virtualisation, multi-domain security, and support for APIs including OpenGL ES 3.2 and Vulkan 1.0″, said the firm – adding that the Vulcan claim is an estimate based on the published Khronos specification.
The cores are up to 25% smaller compared with Series7XE GPUs for the same fillrate, and have 60-100% better performance per mm2 over "a range of industry benchmarks", said Imagination.
The firm aims to compete with products keep cost down by implement older APIs such as OpenGL ES 2.0.
Configurations starting at 2 pixel/clock (GE8200) and 4 pixel/clock (GE8300).
PowerVR Series8XE options:
PVRIC3 support
PowerVR loss-less image compression
10bit YUV for video streaming in hardware
integration with H.265 10bit profiles in set-top boxes and TVs
Security
Hardware virtualisation and Imagination's OmniShield multi-domain security allow systems to be built in which applications and operating systems can run independently.
This restricts hacking opportunities and cuts the chance of one application crashing another. "This is becoming increasingly important as use models and services evolve across a wide range of connected products – demanding that devices be designed to support numerous unique applications, various content sources, and in-the-field software updates from service providers and operators, all while ensuring privacy and protection from security attacks," said Imagination.
PowerVR SDK is available for software development, including for 3D graphics and GPU computing. Physical design optimisation kits (DOKs) will also be available.
Hypervisor on high-end MIPS
At the same time as announcing Series8XE, Imagination revealed virtualisation and corresponding level 4 hypervisor software for its high-end MIPS cores, showing it on a P5600 (Apache) dual core running three virtual machines simultaneously.
The hypervisor comes from University of Dresden spin-out Kernkonzept, and is called Fiasco.