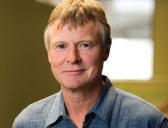 1. Describe your business in 2 sentences.
Integrated Engineering Software develops and sells simulation software for design engineers. Our main focus is in the electromechanical area, but it is also involved in applications requiring a multi-physics solution.
2. How are companies changing design strategies in response to the downturn?
I think that most companies realise it will not be business as usual over the next year. But most companies are running pretty lean and realise that, with every downturn, there will be an upturn at some point. The real question is, when? And when it happens, you want to be ready with new products and services. So, although there is some belt tightening, we are not finding any major downturn in research and development activities.
3. Have you identified any opportunities in the current climate?
The A – Z of Q5 interviews

A
ARM chairman, Robin Saxby
B
BSI manager, Simon Bircham
C
CamSemi CEO, David Baillie
D
Design LED, James Gourlay
E
Ensilica, Kevin Edwards
F
Future MD, Danny Miller
G
GSPK Design CEO, P. Marsh
I
Icera CEO, Stan Boland
J
Jennic CEO, Jim Lindop
L
Lumileds, Steve Landau
M
Mentor CEO, Walden Rhines
N
NI president, J. Truchard
O
OLED-T CTO, P.K. Nathan
P
ProVision CEO, David Sykes
Q
QinetiQ, Stephen Lake
R
Rambus CEO, Harold Hughes
S
SETsquared, Simon Bond
T
TI CEO, Rich Templeton
U
University of Southampton
W
Wolfson CEO, Dave Shrigley
X
XMOS CEO, James Foster
Z
Zetex CEO, Hans Rohrer

The alpha and omega of electronics industry interviews
The likely opportunities in the current climate will mostly be related to infrastructure improvement. This will affect a lot of the stand ard industries associated with infrastructure improvement but will also include new opportunities as more "smart" devices will be required.
These will include devices to make traffic flow more efficient, as an example. As well as the new technologies that are emerging to make Internet access available while being mobile. New infrastructure improvements will also demand new energy efficiencies that were not required in the past. These will all require innovative designs which will lead to advanced simulation methods.
4. How can firms have more cost-effective design processes?
One of the major ways to have a more cost-effective design process is to continue the investment in software for design simulation. As computers continue to add processing power by parallelization and software algorithms continue to move the boundaries of what can be simulated, design engineers can design better products for less. Thus, continued investment in software tools for design analysis and an educated workforce using these tools leads to more cost-effective designs.
5. Is there evidence that design activities are being hit by the downturn?
It is hard to say that all design activities are being hit. Our organisation has seen some sales put on hold but as a whole, products still need to be designed. Companies producing products for infrastructure improvements are doing well. Some of our other mainstream businesses are carefully reviewing budgets before making commitments. Most companies realise there will be better days ahead and want to be ready for that.
See also: Q5 – Interviews with electronics industry leaders
Read all the Electronics Weekly Q5 interviews. From ARM's chairman, Sir Robin Saxby, to touchscreen technology firm Zytronic's MD, Mark Cambridge, the business leaders share their particular insights on the UK electronics industry.