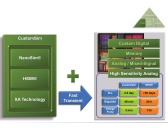 "It will run about two times faster than the previous version," Synopsys director of marketing Steve Smith told Electronics Weekly, speaking of functional verification within the firm's VCS tool.
Until now, the simulator used for verification has run on a single processor. "There are activities running in the background that sit and watch, and only in some cases have to make an action – to indicate an error for example," said Smith. "What we have done with the simulator is to run it in parallel in multiple processor cores."
Monitoring activities now run on cores away from the simulator, sniffing simulated states through shared memory. "So long as the memory is big enough, it runs fast," said Smith. "We have tested this on up to eight cores – primarily because most computer servers max out at eight."
Application-level parallelism allows users to run test benches, assertions, coverage and debugging concurrently on multiple cores.
Design-level parallelism also allows a user to concurrently simulate multiple instances of a core, several partitions of a large design, or a combination of the two.
At the same time as introducing multi-core simulation, the firm has combined its NanoSim, HSIM and XA mixed signal simulators inside a single wrapper called CustomSim.
"This single circuit simulation solution with added multicore capabilities is delivering up to four times performance improvement for large analogue and mixed-signal circuits," the firm claimed.
CutsomSim is multi-threading from the outset.
"We wrote a whole new solver for multi-core and multithreading and it turns out the new solver delivers benefits even if it is not multi-threading," claimed director of product marketing Geoffrey Ying.
The three packages originally had three different input formats.
"It still has the three original input types," Ying told Electronics Weekly. "but now it is aimed at using HSPICE input, the original format for HSIM."
XA is transistor-level simulation add-on to NanoSim and HSIM for "SPICE-like accuracy without any tuning", claimed the firm when it was introduced late last year.
To this has been introduced what Synopsys is calling 'fast transient'.
"Fast transient has been added for high-sensitivity analogue," said Ying. "For hand held devices it is common to have RF which is highly sensitive and requires much more accurate simulation."
As well as pulling together the three simulators, CustomSim brings different design checks. "We have added more checking capability and users can write their own checks in scripting language," said Ying. "Some of the functions in the dynamic checks were available before, but now they are built into the compute engines natively."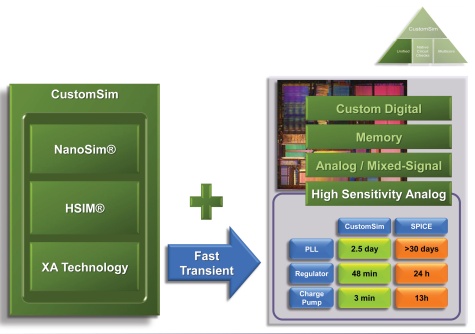 >