Video processing development kit aims at security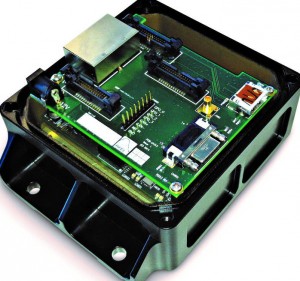 Quick evaluation of video processing algorithms is the aim of Halo Rapid Product Development System (RPDS) from UK DSP specialist RFEL.
"Halo RPDS 1.0 provides customers with a means of evaluating the effectiveness of RFEL's video enhancement technology," said company CEO Alex Kuhrt. "It is a plug-and-play platform that enables customers to input video, try-out various video processing algorithms, and immediately see the quality of the video on a monitor."
The Isle-of-Wight-based firm specialises in developing digital signal processing algorithms, and the hardware on which they run.
While usually offering a bespoke service, last year it launched a range of ruggedised pre-package video processing products called Halo. These offer real-time high-definition video enhancement – including stabilisation, adaptive contrast enhancement and multi-band fusion; as well as control over pan tilt and zoom camera motion.
To broaden its appeal, Halo comes in three form-factors, and it is intended for new designs as well as up-grading existing installations. Use is proposed in: fixed installation covert CCTV monitoring and surveillance, unmanned aerial vehicles and multi-band TV/infra-red imaging.
RPDS will be officially launched at Counter Terror Expo in London (29-30 April).

Related Tech News
Share your knowledge - Leave a comment