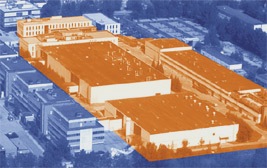 The kit, which is based on the mixed-signal flow from Cadence Design Systems, will be used for constraint-driven design, mixed-signal simulation, floorplanning, schematic-driven layout, automated routing, timing-driven digital block implementation and sign-off.
The Kit includes an OpenAccess PDK to enable mixed-signal designs for 180nm and other technologies.
The A/MS Reference Kit covers a number of Cadence design tools and flows for analogue IC prototyping and analogue IC layout automation, full-chip A/MS simulation, analogue-on-top mixed-signal implementation, automated custom routing, and digital block implementation.
"The new A/MS Reference Kit is a result of our close technical collaboration with X-FAB," said Dr. Chi-Ping Hsu, senior v-p for R&D at Cadence.
"Today's tight project schedules and time-to-market constraints require the best use of available EDA tools, and more automation for all design tasks," said Thomas Ramsch, director design support at X-FAB.
"Designers who adopt X-FAB's mixed-signal flow with Cadence Virtuoso XL and GXL features, and Cadence Encounter Digital Implementation System integrated on OpenAccess, gain significant advantage by accelerating the design process," said Ramsch.