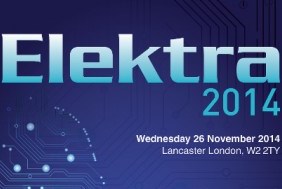 An outstanding number of companies entered the awards this year, presenting their product launches, business initiatives and commercial achievements. Those entries which most impressed a panel of independent judges are listed below.
The overall winners in each category will be announced at an Elektra Awards Dinner which takes place on Wednesday 26th November at the Lancaster London.
The finalists were selected by a panel of judges:
•Derek Boyd, CEO, National Microelectronics Institute.
•Adam Fletcher, chairman of the Electronic Components Supply Network (ECSN).
•Steve Furber, ICL Professor of Computer Engineering, School of Computer Science, University of Manchester.
•Jon Howes, Technology Director, Beecham Research.
•Marco Pisano, programme manager, TechUK.
•Mick Elliott, Technology Editor.
•Nick Flaherty, Technology Editor.
•Graham Prophet, Technology Editor.
•Steve Bush, Electronics Weekly.
•Richard Wilson, Electronics Weekly.
Finalists for Elektra Awards 2014

Business Awards
Elektra Awards promotes exceptional business practice.
Design Team of the Year – Sponsored by Rohde & Schwarz
This award category is open OEMs and design houses involved in product development projects. The projects emphasise strong hardware and software elements.
ByteSnap Design – Heatmiser Neo smart heating controller
Cadonix – Arcadia wiring harness tool
FTDI- Design Team for the FT900 microcontroller
Imagination – PowerVR Wizard ray tracing GPU
Modulus – Modulus002 music synthesiser
RFEL – Real-time HD video stabiliser
Environmental Award
The award category is open to all companies in the market – manufacturers, distributors and design firms. The finalists have demonstrated evidence of how good environmental practice has permeated across the company by being inclusive of staff at all levels of the organisation.
Alpha Wire – EcoCable is 100% recyclable
Environ – Environmental compliance web-based reporting system
Vickers Energy Group – Building energy management system
Distributor of the Year – Sponsored by Panasonic Automotive & Industrial Systems
The finalists in this award category demonstrated outstanding business growth and channel innovation with new service launches.
Conrad Electronic
Digi-Key
Farnell element14
Microlease
Mouser Electronics
RS Components
Manufacturer of the Year – Sponsored by ETES (Southern Manufacturing) 
The award recognises manufacturers which have demonstrated an impressive level of commercial success supported by investment in production capabilities and sales channel development.

AWS Electronics Group
EC Electronics
Harwin
New Company of the Year – Sponsored by Keysight Technologies
New companies, which are start-ups or part of a larger organisation, have set up operations in Europe and demonstrated that they are building businesses to be competitive in global markets.
Blu-Wireless Technology
Digi-Key EMEA
Modulus
Company of the Year – Sponsored by IC Resources
This will be presented to one company which the judges believe has demonstrated outstanding achievements in business success and technology innovation.
Lifetime Achievement Award
This is a special award presented by Electronics Weekly to an individual who in our opinion has made a significant contribution to electronics technology or business in Europe.

Engineers of the Future
Elektra Awards support young engineers and students.

Educational Support Award – Sponsored by Mentor Graphics
Finalists in this award category have truly demonstrated their commitment to the education of engineers of the future by providing support to schools, colleges and universities.
ARM – Cubestormer 3 Rubik Cube solver
Freescale – Freescale Cup intelligent model car racing
Keysight Technologies – EEsof university educational support programme
National Instruments – Saving the planet, one engineer at a time project
Rohde & Schwarz UK – Technology learning programme (TLP)
Sondrel – IC design course with the University of Nottingham and Mentor Graphics
Rising Star New Engineer of the Year – Sponsored by National Instruments
This award will recognise a talented young engineer who demonstrated a combination of both technical knowledge and practical application of their skills in specific projects. There is no shortlist for this award.
University Department of the Year – Electronics Weekly Recruitment
This award will be presented to an electronic and electrical engineering department within a university which has combined a particularly high level of academic success with world-class research within international collaborations. There is no shortlist for this award.
Product Technologies
Elektra Awards promotes exceptional technical innovation

Design Tools and Development Software Award – Sponsored by Swindon Silicon Systems
The finalists have introduced software design tools in the last 12 months which demonstrate technical capabilities which are changing the way designers approach hardware projects.
Altera – SDK for OpenCL
Altium Europe – Designer 14
Cadence – Voltus IC Power Integrity Solution
Mentor Graphics – MicReD Industrial Power Tester
Renesas Electronics Europe – YROTATE-IT motor control tool
Vicor – PowerBench Whiteboard Tool
Internet of Things Product Innovation Award – Sponsored by Micron Technology
The finalists for this award were selected for demonstrating innovative application of their core technologies to take advantage of the IoT phenomenon.
AppNearMe – MicroNFCBoard
Corintech – FilesThruTheAir – environmental monitoring
CSR – CSRMesh
Farnell element14/Freescale – RioTboard
Omron Electronic Components Europe – Human Vision Component Module
Silicon Labs – EFM32 Zero Gecko microcontroller
LED lighting Product of the Year – Sponsored by Anglia
This award recognises innovation in semiconductor lighting product design which demonstrates technical capabilities and usefulness in a real-world application.
International Rectifier – IRS29831 LEDrivIR
Khatod Optoelectronic – Silicon lenses for COB LEDs
LED Engin – LuxiTune dimmable LED light engine
Power Integrations – LYTSwitch-2 isolated LED driver
Verbatim – VxRGB natural vision flame candle LED lamp
Passive & Electromechanical Product of the Year -Sponsored by Pinnacle Marketing
The finalists in this award category have demonstrated impressive levels of technical innovation in design, use of materials and packaging techniques.
CUI – AMT11 modular incremental encoder
DelfMEMS – RF MEMS switch
VPG – Z201HT foil resistor
Smiths Connectors – Transformer connector range
Murata – MA40H1 surface mount ultrasonic sensor
Kemet Electronics – F-Tech tantalum capacitor technology
Power System Product of the Year – Sponsored by CUI
For this award category, the judges have selected a range of power components which impressed because of the way new materials, semiconductor technologies and packaging design have been applied to power efficient designs.
Linear Technology – LTC3350 supercapacitor backup controller
Vishay Siliconix – Si7157DP p-channel power mosfet
GaN Systems – GaN-on-silicon transistor with drive assist
TDK-Lambda UK – DRB DIN rail power supply
LEM – H0 series current transducers
Vicor – ChIP high voltage converter
Renewable Energy Design Award – Sponsored by Melexis Technologies N.V
This award recognises a range of different product types which the judges believe can improve efficiency and usability of renewable energy systems.
Maxim Integrated – ZON energy metering platform
Microsemi – DC-powered POE Midspans use solar power
TWS (Europe) – Mobile AC green alternative to a diesel generator
Analogue Semiconductor Product of the Year – Sponsored by Mouser Electronics
The judges have selected six analogue semiconductors which they believe address and solve specific design issues without sacrificing power.
Analog Devices – AD9625-2.5 ultra-wideband data converter
Maxim Integrated – MAX16984 automotive DC-DC converter
ams – 47-series position sensor
Freescale Semiconductor – MMDS20254H advanced Doherty alignment module
Melexis – Time-of-flight sensor for driver assistance systems
Exar – XRP6274/75 ultra-low dropout regulator
 

Digital Semiconductor Product of the Year
The six semiconductor devices in this award category demonstrate both power efficient processor performance close integration with analogue elements which interface with the real-world.
Aito – ATB252 standalone piezoelectric touch controller
Cypress Semiconductor – CY8CMBR3x CapSense controller
Integrated Device Technologies – programmable universal frequency translator
Panasonic Industrial Devices – PAN1740 Bluetooth low energy module
Silicon Labs – Si701x/2x digital relative humidity sensor
Xilinx – UltraScale FPGA
Test Product of the Year – Microlease
The wide range of different test functions are included in this award category and all show the characteristic of not sacrificing usability in the interests of increased technical capabilities.
JTAG Technologies – JT 5705/USB boundary-scan controller/tester
Keysight Technologies – S-series mid-range oscilloscope
National Instruments – NI VirtualBench
Rohde & Schwarz – RTE digital oscilloscope
Tektronix – MDO3000 mixed-domain oscilloscope
Yokogawa Europe – PX8000 precision power scope
Consumer Product Innovation of the Year – Online vote – Sponsored by Avnet
Electronics Weekly editors have selected six intriguing and innovative product technologies and readers are invited to vote on the Electronics Weekly website for the product they believe is the most innovative and/or useful.
P2i – Liquid repellent nano-coating
CSR – Bluetooth Smart jewellery
LightwaveRF – Connect Wifi-Link
RoadHawk – DC-1 car black box video recorder
Omron – HeartScan portable ECG recorder
Ultimaker – Original desktop 3D printer
The 2014 Award ceremony will take place on Wednesday 26th November at the Lancaster London. Put the date in your diary.