Headphone jack turns into peripheral port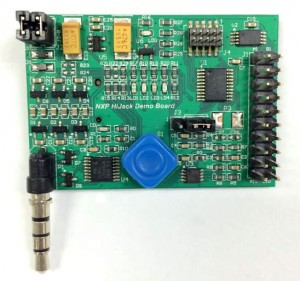 NXP has put together a reference design for attaching external sensors and switches to phones via the headphone jack – inspired by the University of Michigan's Project HiJack.
The idea is that many apps can operate though a low bit-rate interface and do not need to tie-up the phone's fast USB or Lightning interface – keyboards are an example.
"It gives mobile, consumer and industrial product designers simple, plug-and-go connectivity for adding features to a variety of applications, from wearable medical and fitness devices, gaming controllers, and toys, to diagnostics and maintenance tools," said NXP.
"We initially designed HiJack to create a universal way to connect low-cost sensor devices to any brand of smartphone, tablet, or even PC," said University of Michigan researcher Prabal Dutta.
Called 'Quick-Jack', NXP's version consists of a small board, a free example app, and design documentation.
The board has:
LPC812 microcontroller to handle decoding/encoding of the Manchester algorithm (left audio channel has the data) and communication with external peripherals.
A standard header for connection of sensors, switches, or data-collection devices.
A power circuit which draws power from the right audio channel to feed the board and attached components.
A miniature joystick, which controls the example app.
Source code for the LPC812 is free, and ready to use with NXP LPCXpresso tools.
There is an application competition.
Seeed Studio is another source of HiJack hardware.

Related Tech News
Share your knowledge - Leave a comment