$15 for an ARM Cortex-M0+ development board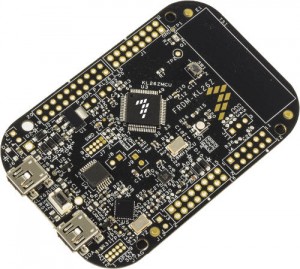 Farnell is to sell Freescale's KL26Z ARM Cortex M0+ development board for $15.
For that, alongside the 32bit core you get 128kbye flash, 12bit DAC, 16bit ADC, and communication peripherals including USB2.0 on-the-go and I2S.
There is also a capacitive touch slider, accelerometers, a magnetometer, and a tri-colour LED.
According to Farnell, it has Arduino-pattern headers, so shields should at least physically fit.
Intended to allow design engineers to evaluate Freescale's KL26 and KL16 MCUs, the chip fitted is a MKL26Z128VLH4.