$50 educational audio dev kit aimed at universities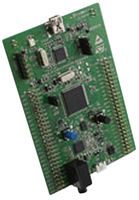 ARM, ST, Wolfson, and Farnell have teamed up to offer an audio 'lab-in-a-box' to universities.
The aim is to boost practical audio system development skills for products such as high definition home media and voice-controlled home automation systems.
"Lab-in-a-box packages offer technology, teaching materials, and training materials that support electronics and computer engineering courses. This DSP lab-in-a-box will cost around $50 and will allow students to practice theory with hardware."
To be officially unveiled at ASEE Annual Conference tomorrow, kits contain an ARM Cortex-M4 (STM32F4)-based microcontroller board from STMicroelectronics, and audio cards (audio SoC and MEMS microphones) from Wolfson and Farnell. It will ship in July.
"Students will learn important control and signal-processing design skills that will serve them well throughout their careers," said STMicroelectronics.

Related Tech News
Share your knowledge - Leave a comment