AMD embeds Trustonic security in CPUs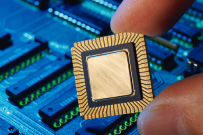 AMD has signed a deal to embed the Trustonic Trusted Execution Environment (TEE), <t-base, into its CPUs and into what it calls 'accelerated processing units (APUs) – for PCs, tablets and other processor markets
The aim to give owners of future AMD-inside devices hardware-backed secure access to banking, payment, entertainment and content services.
"AMD APUs and CPUs will unlock a range of secure capabilities for end-users, including safe payments to access to content, and bring-your-own-device-to-work support scenarios," said Trustonic. "This will be accomplished by providing developers with access to hardware root-of-trust-based security to enable services."
As well as end users, according to Trustonic, its collaboration with AMD is intended to provide development platforms for industry bodies working towards trusted computer platform interoperability – such as GlobalPlatform and Trusted Computing Group. And device vendors will get a way to integrate traditional security solutions such as the TCG Trusted Platform Module (TPM) functionality crypto libraries and isolation.
"Our collaboration with Trustonic supports open industry standards for security and the convergence of ecosystems, whether you are on a tablet or in the cloud," said AMD v-p Steve Belt. "Industry is moving to hardware-based security and this collaboration means features optimised for third-party solutions."
AMD will also have access to Trustonic's partner ecosystem.
"This will enable security features such as user-authentication that runs independently from the operating system, trusted user-interfaces and biometric pattern matching on AMD powered devices," said Trustonic.
Trustonic is privately held between three shareholders: ARM, Gemalto and Giesecke & Devrient (G&D).