Arduino brings Intel into its open source community
Open source embedded development platform firm Arduino has announced a collaboration agreement with Intel and launched a board during Maker Faire Rome (October 3-6, 2013).
Arduino said the Galileo board is the first product in a new family of Arduino-certified boards featuring Intel architecture.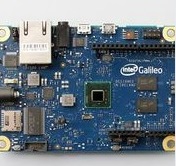 The Galileo development board can be used for prototyping interactive designs like LED light displays that respond to social media, or for tackling more complex projects from automating home appliances to building life-size robots that you control from your smartphone.
Building on the Galileo development board, Intel and the Arduino community will work closely together on future products that bring the performance, scalability and possibilities of Intel technology to this growing community of makers.
To mark the collaboration, Intel will donate 50,000 Galileo boards to 1,000 universities worldwide over the next 18 months.
Intel Galileo will be available by November 29, 2013.
Also during Maker Faire Rome, Arduino announces a collaboration agreement with Texas Instruments to use its Sitara AM335x processor.
This is significant because of TI's close connections with the rival BeagleBoard embedded development platform.
Arduino said it now has "a close collaboration with the BeagleBoard.org foundation" opening the way to a possible common platform.
The 1GHz Sitara AM335x processor-based board, Arduino TRE, will be the first Arduino board manufactured in the US.
Thanks to the 1-GHz Sitara AM335x processor, Arduino said the TRE board will have up to 100 times more performance than Arduino Leonardo or Uno.
"This performance opens the doors to more advanced Linux-powered applications such as such as 3D printers, gateways for building automation and lighting automation and telemetry hubs," said Arduino.
"By choosing TI's Sitara AM335x processor to power the Arduino TRE, we're enabling customers to leverage the capabilities of an exponentially faster processor running full Linux," said Massimo Banzi, co-founder, Arduino. "Our customers now have a scalable portfolio at their fingertips, from the microcontroller-based Uno to the TRE Linux computer."
For TRE, Arduino has combined the Sitara-processor-based Linux system with a full AVR processor-based platform.
The Arduino TRE is expected to be available in spring 2014.