ARM buys IoT protocol firm Sensinode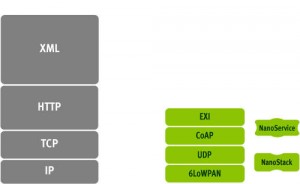 ARM has acquired Sensinode, provider of embedded software for low power wireless comms.
Based in Finland, the firm develops code for the lightweight protocols used in 'Internet-of-things' devices, and contributes to related standardisation efforts.
"The privately-held company has led the creation of the 6LoWPAN and CoAP standards for low power devices, and has been a key contributor to IETF, ZigBee IP, ETSI and OMA standardisation efforts," said ARM. "The Cortex family of processors and mbed project, together with Sensinode's NanoStack and NanoService, provide the foundation for applications including wireless sensors, smart connected appliances, home health applications, and wearable electronics."
OMA (Open Mobile Alliance) has a standard for lightweight M2M comms over cellular radio, and mbed is an ARM processor-based collaboration out of which comes hardware and software building blocks including microcontroller boards, radios, peripherals, middleware and cloud services.
Constrained application protocol (CoAP) is intended to allow devices and networks with few resources to serve web pages – for smart energy, home automation, building automation, asset tracking and cellular M2M, for example.
IETF is the Internet Engineering Task Force whose mission is: "to make the Internet work better by producing relevant technical documents that influence the way people design, use, and manage the Internet".
"Standardised by the IETF, CoAP is a key technology for turning the Internet of Things in to the Web of Things," said ARM. "Sensinode's NanoService solution uses CoAP, together with Sensinode's semantic web linking, resource directory and EXI technology, to provide end-to-end embedded web services."
Sensinode has software for 6LoWPAN, CoAP, and OMA Lightweight M2M with security.
ARM "will continue the commercial offering" of Sensinode's NanoStack and NanoService products to existing and new customers, said ARM.