Atmel improves touch chips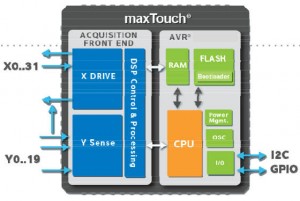 Atmel has announced another generation of capacitive screen touch controllers, claiming them to be significantly better at dealing with big fingers, small styluses, water and gloved fingers.
Compared with its last generation, there are now 20 DACs taking data off 20 sense wires followed by parallel processing, compared with 18 wires multiplexed onto fewer ADCs before.
Having moved to a 130nm process for the new chips, there was also room to replace the old 8bit processor with a 32bit AVR core.
"It is a lot more power efficient and has a lot more processing capability for a lot more intelligence: large finger detection, palm rejection, water rejection and charger noise immunity" Atmel product marketing manager Tony Xia told Electronics Weekly. "And it can work with xSense, our scheme to use fine copper wires to replace ITO."
As well as replacing increasingly hard to get ITO (indium tim oxide), xSense is claimed to reduce sense line impedance which allows the wire to be charged and read faster. With more sense cycles in a fixed time, statistical processing can reduce the effective signal-to-noise ratio.
Charger noise rejection, said Xia, is actually a combination of better numerical processing, actively hopping the read frequency away from the charger band, and analogue processing.
The new flagship device is the 642T offering 32×20 conductors, compared with 30×18 with former top model 540F.
For the touch aware, metrics are:
6.2in screen for Windows 8
8.3in for Android Jelly Bean
20-25mm hover detection range
1.0mm passive stylus
1.0mm active stulys (Atmel maXStylusTM GenII only)
2-3-4 multi-finger glove touch at 3mm, single finger glove touch at 5mm
No false touch with water drop
Single finger touch with water drops
Up to 22mm large finger touch detection
750kHz burst rate
Up to 150Hz report rate.
On water, Xai said: "Condensation with a finger, there is no impairement; wet hands from washing, there is no problem; up to a few drops, there is no false touch; and it automatically works after wiping."
And on gloves: "A lot of smartphones today won't work with gloves at all. Ours worked well with 20 different gloves we were presented with on one customer visit."
And the problem with big fingers is, according to Xia, that they can be falsely detected as multiple small fingers grouped together.
Lastly, passive styluses no longer need to be conductive and in electrical contact with the user. "We tried it with a cheap mechanial pencil with an 0.5mm lead and it worked," said Xia
Package is a 6x6x0.5mm 84XFLGA or 6x6x0.6mm 84UFBGA.