BB View display capes wrap BeagleBone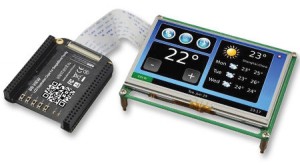 Farnell element14 has launched the BB View, a range of resistive touch-screen display expansion capes for the BeagleBone family of dev boards.
The LCD expansion capes, which provide full access to the BeagleBone GPIOs, are available in two sizes: 4.3-inch and 7-inch displays
Features:
24-bit TFT LCD modules, 7-inch (800 x 480), 4.3-inch (480×272)
4-wire resistive touch-screen
Full GPIO expansion via two 46-pin connectors
5 user switches
2 user-defined LEDs
Works with BeagleBone and BeagleBone Black
Power supply: +5V (from BeagleBone)
The 4.3-inch version is priced at £48.77 and the 7-inch version £73.46.
The capes do not require any external power supply and are supplied with Linux QT demo for display and touch functionality.
"We are pleased to bring together the very best in design and development from Embest, and the high-service multi-channel distribution strengths of Farnell element14 to launch this new range of capes for the BeagleBone family," said David Shen, CTO at Farnell element14.
"BeagleBone is enormously popular among developers and students and users will be able to quickly integrate touch-screen functionality into their next design."

Related posts