CSR devkit speeds Bluetooth Smart development
Bluetooth Smart is increasingly making its presence felt, and CSR has launched a new low-cost development kit for developers to get Bluetooth Smart prototypes up and running fast.
The kit includes a full version of the CSR xIDE development environment, a suite of profiles and example applications to run on-chip, and there's also example source code for iOS and Android. Support is promised via a newly launched CSR developer forum and wiki.
CSR writes:
The CSR Starter Development Kit also accelerates hardware development due to the inclusion of FCC and ETSI RF certified reference module designs which are supported with full design files. In addition, CSR's Starter Development Kit comes supplied with a hardware development board, a CSR1010 module, mini USB cable, setup and quick start guides straight out of the box. No additional monetary investment is required from developers nor is there a need to download and install additional tools or purchase further software licenses.
Features:
Target board with CSR µEnergy IC on a reference module, a USB programming interface and interfaces for breaking out I/O to application-specific sensors and actuators. The target board is normally powered from the host USB connection but can also be run standalone from an on-board coin cell (not included) to allow power measurements to be made
Application development is enabled by the CSR µEnergy Software Development Kit which provides full stack support with GATT level interface
Fully licensed CSR xIDE software development environment
Example applications for popular Bluetooth Smart profiles such as heart rate sensors, alert tags, mice and keyboards, cadence sensors and many more
Example host applications for iOS and Android platforms
Datasheets for CSR µEnergy ICs
Hardware design guidelines
Manufacturing packs for module reference designs
Production test and configuration tools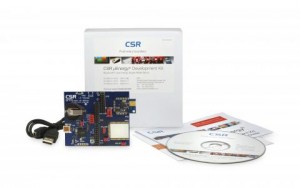 It is priced at $99 is available globally via Digikey and local CSR authorised distributors.
"This SDK offers a low barrier to entry for developers looking to create fully-featured Bluetooth Smart products such as wearable, human interface, fitness, medical and IoT devices," says Anthony Murray, Senior Vice President, Business Group at CSR.

"We want to give developers access to our highly optimised hardware and software solutions at a cost-effective price so that we can ease their efforts in bringing their innovative ideas for products to market as simply as possible."
See also: What is… a GATT Service?

Related posts