Getting started with ARM Cortex designs
Freescale i.MX6Q quad core ARM kit runs Linux
Direct Insight's evaluation kit for Freescale's i.MX6Q Quad Core ARM Cortex-A9 processor includes a production-ready system-on-module and Linux support.
Board Support Packages for Windows Embedded Compact 7 and Android 4.1 are due to be rolled out over the summer, said the supplier.
The TRITON-TXEK evaluation kit includes 1024MB DDR3 64-bit RAM, and a powerful quad-core version of Freescale's i.MX6 processor, implemented on a 68mm x 31mm production-ready module mounted on the TXEK breakout board.
"A manufacturing-ready solution can be created by replacing the development kit baseboard with a suitable production implementation, which can be project specific, or a standard production baseboard," said Direct Insight.
The interfaces include Ethernet, SD Card, 2 USB ports, Audio, RS-232 and connection to an optional range of capacitive touch screens, which plug directly into the board. It is powered by a single 5V supply.
The TRITON-TX6Q module is connected to the baseboard via a SODIMM200 socket and provides 128MB NAND flash, and power management. 128MB NAND flash in addition to the i.MX6 processor and RAM.
The TRITON-TXEK with Linux BSP is available immediately from stock, with optional 5.7in and 7in capacitive touch screens.
The TRITON-TXEK for i.MX6 is already shipping, priced at £130.
Simple development boards tempt users to Embedded Workbench
IAR Systems has launched low-cost hardware starter kits to introduce developers to its Embedded Workbench tool chain.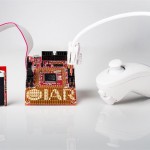 Called 'Experiment!', the kits included a board with a STM32L152VB ARM Cortex-M3 microcontroller from STMicroelectronics.
First to be introduced are a game controller kit and a magnetometer kit.
The euro 89 game controller kit includes a proper game controller handset as well as a 45x40mm colour LCD and example projects such as a snake game.
The euro 69 magnetometer kit has a 39 x 35mm LCD alongside its magnetometer module.
Both include a size-limited license of the Embedded Workbench too chain and can be used with the firm's in-circuit debugging probe (I-jet) as well as other JTAG probes.
"We have developed a new type of kit for creative, easy and low-cost evaluation," claimed Sara Skrtic, IAR's product manager for kits. "We are developers ourselves, so when deciding what modules and project examples to include, we thought of what we like to work with, and we believe we came up with something that will be useful and fun at the same time. The two first kits will be followed by others, with different modules as well as a range of different microcontrollers."
The boards in the first kits have several connectors: JTAG 20pin, a small 19pin trace connector, two UEXT/UXT connectors and a USB connector.
Power is supplied through the JTAG, trace or USB connector.
A prototyping area is included, as are user and reset buttons; power and user LEDs; and designated power/current measuring points – that can be used with the firm's I-scope http://www.iar.com/iscope/ power probe which correlates results with source code in Workbench.
FreeRTOS 7.5.0 tackles Cortex-A9 and MISRA
The FreeRTOS real-time kernel now embraces ARM Cortex-A9.
Now at version 7.5.0, other changes include core components which pass Lint's MISRA rule checks, more API functions, and low power trace.
"Version 7.5.0 is a major new version that includes many efficiency improvements, including optimisations that target the code that runs most frequently. Other enhancements include the elimination of unnecessary task switches," said Real Time Engineers, the firm behind the RTOS.
This is the first release to contain official Cortex-A9 support, for which ports are provided for both the IAR and ARM tool chains, taking the number of supported architectures to 34.
Also included are Renesas RZ and Microsemi SmartFusion2 demonstrations that make use of the FreeRTOS+FAT SL DOS compatible file system.
"To maintain the ethos of ease of use, v7.5.0 is backward compatible with all previous 7.x releases, enabling its benefits to be obtained by simply dropping the updated source files into existing projects," said the firm. "It adds API functionality that has been requested by users, such as simplifying the gathering of state information and run time statistics."
FreeRTOS has always emphasised coding standards as one means to ensure product quality, its original author having direct experience with the production of aerospace software.
"Users can take confidence in the fact that version 7.5.0 core source files do not generate any warnings when statically checked by Lint. The details of the test conditions will be published on the FreeRTOS.org website," said Real Time Engineers, adding that FreeRTOS+Trace kernel trace functionality now includes trace macros which allow the visualisation and optimisation of the recently introduced low power tick-less operation mode.
TI sells £15 Hercules LaunchPad board
Texas Instruments has introduced its lowest cost evaluation board for its range of Hercules safety-critical microcontrollers.
Priced at under £15, TI Hercules LaunchPad contains the development board, USB cable and documentation.
On-board emulation and included Hercules MCU demos illustrate the MCUs safety features.
The Hercules LaunchPad is available in two models – one based on the Hercules TMS570LS04x MCU and another based on Hercules RM42x MCU.
Dual lockstep ARM Cortex-R4 based Hercules MCUs are intended for use in safety-critical automotive, industrial and medical applications needing to adhere to industry safety standards such as ISO 26262 and IEC 61508.
Powered by USB, the board integrates an on-board XDS100v2 JTAG emulator, LED lights, a light sensor and SCI to PC serial communication port for design flexibility.
It includes software for evaluation, including Hercules MCU safety demos with downloadable host graphical user interface (GUI) to select and run the demos.
It also provides software drivers for demos using the Educational BoosterPack, an add-on module with an accelerometer, an LCD display, tri-colour LEDs and other features to help users get familiar with the MCUs' input/output (I/O) interfaces.