LIN slave mop-up chip meets ISO26262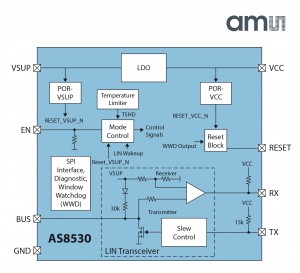 AMS had introduced a LIN companion chip for MCUs that complies with the automotive ISO26262 functional safety standard, claiming it to be the first.
"ISO26262 compliance has added a new layer of complexity and difficulty to the task of designing many automotive systems," said AMS general manager Bernd Gessner.
The 8pin AS8530 includes a LIN 2.1 transceiver, a 50mA LDO for a local MCU, a reset generator, an output voltage monitor, and a unique chip ID.
"As a differentiator, the AS8530 offers a series of system management functions through a shared pin serial interface, all within the same SOIC8 package," said the firm. The addition of diagnosis functions provides built-in support for the requirements of ISO26262."
It also has a two-wire serial port (sharing the Enable and TX pins) that allows status registers and diagnosis information to be read by the local microcontroller.
And there is a window watchdog, and back-up registers to store data when the microcontroller shuts down.
"These features are crucial in the design of ISO26262-compliant systems, which must be able to cease operation safely when in a fault condition, before the vehicle is at risk of endangering passengers or other road users," said AMS. "The AS8530 is suitable for any LIN-networked sensor and actuator slaves, including those found in door modules, sunroofs and headlight positioning units. It is suited to safety-critical systems that require an ASIL grading under the provisions of ISO26262."
The LDO is factory set to 3.3V or 5V.
Normal, power-saving, stand-by and sleep modes can be triggered through the Enable pin.
Related news
Dual lockstep ARM Cortex-R4 MCUs ISO26262
Toshiba MCUs for functional safety