MEMS sensor development board from Freescale Kinetis Freedom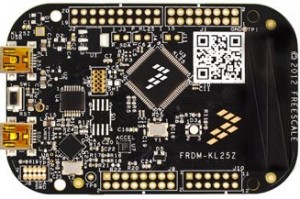 Farnell element14 is selling a multi MEMS development board for Xtrinsic sensors incorporating an accelerometer, pressure sensor and a magnetometer to measure motion, altitude or pressure.
The development board is based on a Freescale Freedom FRDM-KL25Z platform for Kinetis L Series KL1x and KL2x MCUs families built on the ARM Cortex-M0+ processor.
Device drivers and sample codes are also included for evaluation and demonstration of sensors to measure motion, altitude, pressure, the detection of magnetic fields and physical position.
The development boards from element14 comes equipped with a USB cable and quick start guide.

Tags:
Cortex
,
demonstration
,
MCUs
Related Tech News
Share your knowledge - Leave a comment